I remember the pride I felt when companies and organizations first began reporting on the gaps in gender and racial diversity and equality within the tech industry. Yes, the data was stark, but we were committing as an industry to doing something about it. Since that time, organizations of all sizes and types have poured time, resources and budget into diversity, equity and inclusion initiatives in an attempt to close some of these gaps. Progress has been made, but as you will see from the data in our Equality in Tech Report, we must do better.
As an industry, we can come up with myriad rationalizations as to why gaps still exist for both race and gender, but it's time to stop making excuses. Our report is based on a survey of more than 9,000 technologists situated throughout every corner of the U.S., and no matter who we are—technologist, hiring manager, recruiter or organizational leader—we need to pay attention to what they're saying. There's no point in debating whether or not inequality still exists—it does. What we should be brainstorming, connecting on and engaging with are the possible solutions.
I firmly believe that, to close these gaps, we need to take responsibility to make a difference both within our professional lives and as individuals. As human beings, we can no longer stand aside or walk by examples of discrimination and inequality—we must confront them head-on and be the voices and the allies that we have the power to be. In our professional lives, we must help our organizations evolve. Diversity, equity and inclusion must be woven into the very fabric and purpose of the organizations in which we choose to work—not "something" we do, but a part of everything we do.
Just as all of us can make a difference if we have the courage to step up individually, organizations across the country can embed diversity, equity and inclusion into their cultures, platforms and products, moving from saying the right thing to doing the right thing. For example, Dice lives at the confluence of tech and HR, and I consider it our responsibility to do more in building both a better pipeline for a diverse technologist workforce and creating more effective connections between these technologists and the right roles at the right organizations. We are working both internally and hand-in-hand with organizations with expertise in these areas to help pave the way forward.
The time for talk and rhetoric has passed. Change will happen when each of us commit to taking action—no matter how small these actions are, the sum of their parts will be what moves us forward. We can all start with a commitment to make progress, to be better than we were last year, or last month or even yesterday. I'm pledging that we will make ongoing progress at Dice, both as individuals and as an organization, and that we will be a community that makes every employee, shareholder and customer proud. We will do better.
I want to ask you personally to share the report with your network, and to use it to keep the conversation going and keep the spotlight on racial and gender discrimination and inequality in our industry and the country as a whole. Thank you for reading and sharing this report, and for the work you're doing to make a difference.
Thank you for reading the Equality in Tech Report. Because this information is vitally important to every stakeholder in our industry, the report is not gated in any fashion—please share the report with your colleagues, family, friends and wider network as we seek to close the racial and gender discrimination gaps together.
---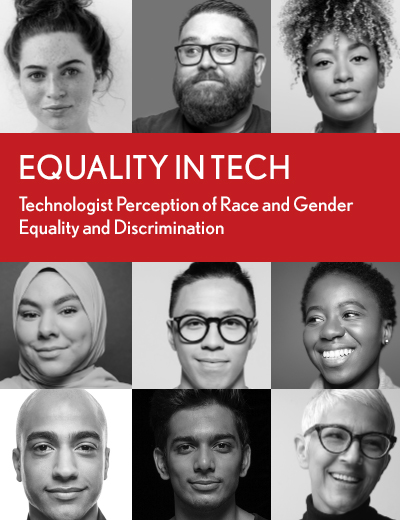 ---