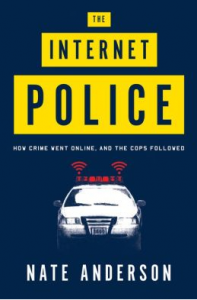 When
Ars Technica
editor Nate Anderson sat down to write
The Internet Police
(W.W. Norton & Company, 320 pp.), Edward Snowden hadn't yet decided to add some excitement to the National Security Agency's summer by
leaking a trove of surveillance secrets to The Guardian
. As a result, Anderson's book doesn't mention Snowden's escapade, which will likely become the security-and-paranoia story of the year, if not the decade. For anyone unaware of the vast issues highlighted by Snowden's leak, however,
The Internet Police
is a handy guide to the slow and unstoppable rise of the online security state, as well as the libertarian and criminal elements that have done their level best to counter that surveillance. Anderson starts off his book in 2000, with an exploration of
HavenCo
. The people behind HavenCo had a fascinating idea: build a datacenter on a rusting naval fort in the North Sea, and use it to hold data for customers concerned about the government sniffing around. But the company's dream of constructing a "true libertarian paradise" eventually sank, thanks to a toxic combination of infighting and infrastructure challenges. HavenCo was an early entrant in a longtime attempt to place a large swath of the Web beyond the reach of governments and corporations, and it definitely wasn't the last: from Silk Road to MegaUpload, the properties dedicated to a "liberated Net" have proliferated in recent years. Some people founded such sites out of high principle; others for the
LULZ
; and many because they simply wanted to download movies and music and possibly highly illegal drugs for free. Anderson does an excellent job of tracing the push-and-pull between these Websites and various government and corporate entities. People form peer-to-peer networks to swap copyrighted content, and corporations sue to shut them down; others set up networks to trade pornography or drugs, and law-enforcement agencies unleash all sorts of surveillance tools to track down the perpetrators; spam networks rise, and governments pass legislation (boosted by corporations) to nuke them off the Web, with varying degrees of success. These attempts at control usually prove successful, at least until new and improved versions of those Websites rise from the smoking ruins of the old. To his credit, Anderson wears his journalist hat to the proceedings, never tipping his sympathies to one side or the other. He acknowledges that government and law enforcement really do want to keep people safe above all else, even as certain legislatures and police departments run roughshod over citizens' privacy; he also details how many software creators built their security and privacy tools out of a genuine desire for people to have as much freedom as possible online, only to watch as criminals and others twisted those tools to their own nefarious ends. Anderson's conclusion is that society needs an Internet police in order to keep some degree of peace, but that "we need to keep a close eye on them." In this post-Snowden era, when it seems increasingly clear that governments have the ability to monitor virtually every single aspect of our electronic lives, this bit of advice seems more important than ever.
Image: W.W. Norton & Company