An informal survey by BTIG Research found the HTC Thunderbolt LTE is
outselling the iPhone 4
in Verizon stores. Out of 150 outlets, 28 percent said the Thunderbolt was moving faster than Apple's device, 61 percent said they were doing about the same, and 11 percent said the iPhone was selling more.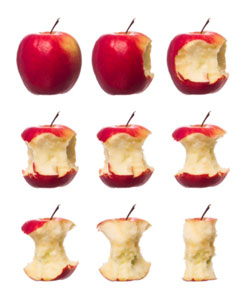 One reason may be that consumers are looking for smartphones
with screens at or above four inches
. Sales of phones with smaller screens rose just 2 percent last year. Sales of those with screens smaller than 3.4 inches dropped by almost two thirds. IDC predicts Android phones
will surpass Apple's this year
, and Windows Phone 7 will do the same thing by 2015. Why? The union of Microsoft and Nokia "brings together Nokia's hardware capabilities and Windows Phone's differentiated platform." For app developers, Apple hasn't helped its case by delaying the iPhone 5's release by three months. It could be a tactic to push for a breakthrough product and maintain its dominance. But it also gives Android and Microsoft devices a chance to regain some ground, as
Business Insider
points out. Of course, not everyone agrees Apple is on the ropes. The iPad's growth
kicks iOS ahead of Android
, says AppleInsider.