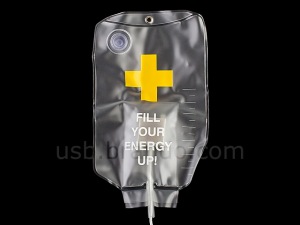 The future of light is the light emitting diode (LED), and the
USB LED Drip Light
has one-upped the bigger players with this conversation-starter light fixture that attaches to your PC's or Mac's USB port. Just plug it in and mount it to your cubicle wall. The manufacturer tells us it's made from durable plastic, has a trickle power draw from your device, and can be filled with any color water you choose. It serves no purpose that I can tell except to invite conversation. Once you install it, be prepared for questions like:
"What does it do?"
"Is that all it does?"
"Why did you get it?"
"Aren't you afraid to have water so close to your PC?"
"What is it you do here anyway?"
Some Suggested Uses
Fill it with red water and flip it on when you don't want to be disturbed by colleagues who are more interested in invitations for coffee when you're knee deep in a project, or: Fill it with blue water when you're sad because you've just thought of a better use for the $11 plus $3 shipping and handling. Actually, it may be the perfect gift for the thousands of stay-at-home medical coders who want to feel a bit closer to the doctors and hospitals they're entering codes for. Just a thought.