In most areas of the country, tech professionals are hard to come by. In the 10 states listed below, the talent pools are respectably deep so employers might have an easier time finding workers with the skills they want. But they'll face a surprising challenge: People like living there, so convincing them to move can cost real money. That's a pretty big caveat, and it creates a dynamic that works in the job seeker's favor. First, it means companies will have to offer pretty generous packages in order to lure you away. Second, it can drive up salaries in
some markets
you wouldn't expect.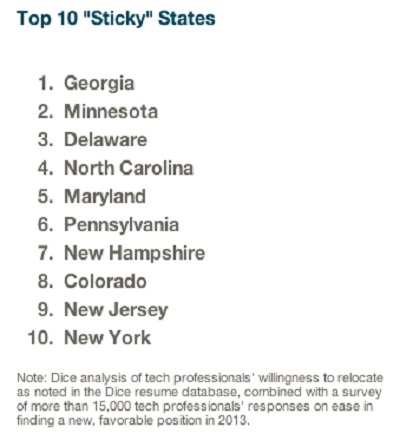 For example, according to a Dice Report released Wednesday, 72 percent of IT workers in Georgia expect to find a good position in the Peach State this year. Only 37 percent are willing to relocate outside its borders. Not surprisingly, hiring and pay are on the rise, especially in Atlanta. If you've got roots there, a family that likes the area, a good job and a stronger job market, why move?
In Delaware and Maryland, only 33 percent of tech workers said they're willing to relocate. Those in Delaware are more confident they'll find a favorable position this year (70 percent). In Maryland, 67 percent were as optimistic. In Minnesota, 35 percent said they'd consider relocating, while 70 percent had a good feeling about the job market. That bodes well for the Minnesota High Tech Association, which is aiming to make the state one of the
the top five technology centers in the U.S.
by 2020.