Can't find enough qualified IT talent to fill your job openings? Before issuing that often repeated complaint, try asking yourself what you've done to retain the talent you have, especially your women engineers. Chances are these women technologists will quit at a higher rate than the men with comparable skills.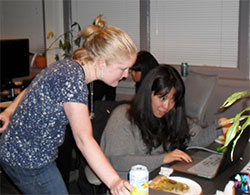 A report released Tuesday by the Anita Borg Institute called "Women Technologists Count," cites a study that found that 56 percent of women technologists at the mid-level point in their career have a cumulative quit rate that is more than double that of men at an equivalent point. And the cost to replace these women technologists can reach as high as 60 percent of an employee's annual salary, the report notes. Here's a break out from the report on why women engineers leave the IT field and the top 10 actions that can be taken to retain them:

Instituting Change
Among the Top 10 actions needed to retain women in IT, three hold the greatest potential for instituting change, says Telle Whitney, CEO of the Anita Borg Institute, a non-profit that focuses on the advancement of women in computing. Under leadership and accountability, the collection, analysis and reporting of retention data is a key action. "Almost all companies do some form of data collection, but only 10 to 20 percent track all the recommended metrics and measures," Whitney says. "One CEO we talked to could say what percentage of his workforce were women, but he couldn't say what percentage of the women were technical and non-technical." And in the corporate culture built for innovation category, the item on providing development and visibility opportunities is particularly important. "All companies say they offer development, but do they have this training at critical junctures in women's lives? I would say, 'no', " observes Whitney. The importance of development at the right moment in a woman's life is reflected in the statistics. According to the report, 30 percent of women leave because they do not receive advancement or see the potential for advancement within the IT department. And a number of them leave at the mid-point of their career, rather than much earlier or later, according to the report. A third item that employers need to focus on is funding and supporting workshops, conferences and events that provide career path experiences and challenges, says Whitney. Over the next five years, she expects to see more companies participating in this form of support. Next week, for example, approximately 300 companies will be participating in the Anita Borg Institute's Grace Hopper Celebration of Women in Computing conference in Minneapolis, Mn. "I see companies making more changes than ever before," Whitney says. "In five years, I think there will be companies with a technical workforce that is 50 percent women and 50 percent men."