What exactly does it take for a woman to become a household name in the tech world -- a Marissa Mayer, Sheryl Sandberg or Susan Wojcicki?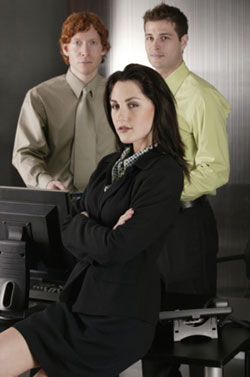 In many ways, it takes the same characteristics as it does for men, according to Telle Whitney, CEO of the Anita Borg Institute, a Palo-Alto non-profit that focuses on women in technology. "Women who rise to the top C-level have many of the same characteristics that any C-level executive would need -- to be driven, focused on results and communicate well," she says. The truth is, rising to the C-suite at a large corporation isn't in the cards for most people, but particularly women. But it's worth noting that
Yahoo's
Mayer,
Facebook's
Sandberg and YouTube's Wojcicki all had the chance to get in early at a pretty hot startup -- Google. Mayer was a Google veteran, working as one of the company's first employees and its first female
engineer
before rising up the ranks and finally moving to her current role as Yahoo's president and CEO. Wojcicki, now CEO of Google's YouTube, was also an early employee and is famously known for renting her garage to founders Larry Page and Sergey Brin during the company's infancy. She started out as Google's first
marketing manager
and worked through a variety of roles in
advertising
there, including overseeing AdWords, AdSense and Analytics. Sandberg, on the other hand, took a textbook business path. She began as a management consultant and later served as chief of staff for the U.S. Treasury during President Clinton's tenure. She soon captured Google founders Page's and Brin's attention, and they hired her as vice president of global online sales and operations. In 2008, she departed to become Facebook's chief operating officer, and also became the first woman to join the company's board.
The Right Place, The Right Time
As with men, it pays to be in the right place at the right time. Whitney points out it didn't hurt that Mayer, Sandberg and Wojcicki were experts in the Internet and social media. "All three were given significant responsibility and gained extensive experience in the business when they were still early in their careers, and they delivered results," she observes. "They were able to build their skills to thrive in a C-level role while still young."
A Rarer Breed: Female CTOs
If top-level women are a rare breed, female CTOs are even rarer. Much of that has to do with the pipeline. According to the New York nonprofit Catalyst, just 5 percent of CTOs are women. Says Whitney: "In our work with organizations, we see that it is still rare for many to have a robust pipeline of women at the top levels of their technical track, making the potential talent pool for women CTOs very small indeed." Those who've taken over the role, though, are "knowledgeable about the breadth of technology and communicate well with business leaders," she adds. Large companies with top women technology executives include
Cisco
,
Xerox
, and
Bank of America
.
No Apologies Allowed
A rise to a C-level job also requires women to stick to their guns. They can't back away from having a blunt and honest approach, just like their male peers, says Nelly Yusupova, a Web technology strategist and CTO of Webgrrls International, a networking and mentoring forum for women in tech. Mayer, for instance, was unapologetic when she
ended Yahoo's telecommuting
and sparked an uproar.
Don't Fear Risk Taking
The best advice Yusupova offers is that women should understand the realities of operating in the male-dominated tech world. "Women are sometimes judged more harshly than men. But they can't use being female as an excuse," she says. Sandberg argues just that in
her 2013 book
,
Lean In: Women, Work, and the Will to Lead
. When published, the book caused a stir because of its no-holds-barred approach for women moving up the corporate ladder. "What she personally told me is that a lot of women don't take enough risk," says Yusupova. "My personal mantra is never fear what you don't know."