Carla Gentry would have laughed if she'd been advised to just "lean in" when she was a divorced mom trying to raise two boys. Gentry, who operates her data analytics business from Louisville, Ky., recalls being greeted with a blatantly sexual comment from the head of a previous employer on her first day on the job. Eight months after Facebook COO Sheryl Sandberg's book came out, people are still talking about it, largely because workplace issues persist for women in technology, so few women are in top positions – and so few are coming in at the entry level. "We have 550 undergraduates and just 5 percent of them are women. That's just abysmal," says Denise Koessler, a Ph.D. candidate in Computer Science at the University of Tennessee-Knoxville, whose department asked her to help do something about it. Sandberg is an advocate of
getting gender discussions on the table
, and has urged young women to not take themselves out of the running for advancement. "When a woman starts thinking about having children," she's said, "she doesn't raise her hand anymore … She starts leaning back." The response to Sandberg's book has been resoundingly positive among many, but not all, according to Telle Whitney, CEO of the Anita Borg Institute, a nonprofit organization dedicated to advancing women in technology. "I've actually been very stunned by some very negative responses I've seen," she says.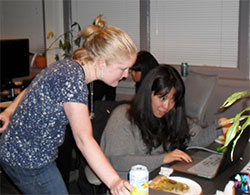 The criticism tends to fall along two lines: that Sandberg is a billionaire who can afford all the help she needs to keep family and career on track, and that she puts the pressure squarely on women rather than looking at the cultural changes that need to happen for women to succeed. Both aspects are important, Whitney says. "You've got to help individual women to do what they need to do, but you also need to work with organizations to change the way they are inclusive of women, and you're not going to succeed until you have both."
Changing Times – or Not
In her article
"Why Women Still Can't Have It All,"
Anne-Marie Slaughter, who was director of policy planning at the State Department under Hillary Clinton, finds an older generation of powerful women who wonder why their younger colleagues aren't willing to make the sacrifices necessary to get to the top, and a younger generation wondering why they should have to make sacrifices at all. "Even though we think we've come so far, that we've progressed so much, we really haven't when we come to the technology world," says Gentry. "Look how long it took Facebook and Twitter to even think about
having a female join their board
." Gentry, who has worked with Big Data for nearly 20 years, said the final straw at her old job came after she spent six months as a certified scrum project owner building a data warehouse that gave a client real-time access to its transactions. Men in the organization wanted nothing to do with the project because they thought it would fail, she said. But once it was successful and caught the attention of the CEO, they were scrambling to be associated with it and ultimately managed to wrest it from her control. That's when she decided to set up her business,
Analytical Solution
, and focus on
being a thought leader on data
. Still, she says men with less experience are able to gain many more followers on social media and win the contracts she's vying for 99 percent of the time. However, she says the issues women face have changed to some degree. "It's not the 'Hey, nice ass' kind of comments, but it's more the unsaid comments. It's like, 'Oh, you can't do that project.'"
In addition, Gentry thinks the new generation of women might not be prepared for the work environment they'll face. "I've heard junior analysts say, 'I never realized my opinions would be valued so little,'" she says.
Eliminating the Vacuum
"Lean In" circles – groups of 10 or so who provide support and discuss career issues – are a pillar of Sandberg's book. Her nonprofit group
LeanIn.org
says 10,000 circles have registered online so far. ABI recently launched a co-branded effort with LeanIn.org to
sponsor circles
. It will provide curriculum materials to help the groups explore a range of issues. Some
men and ethnic groups
also are adopting the strategy to help them further their own careers, the New York Times reports. Koessler saw the circles as an ideal approach to building a community after her department asked her to help come up with ways to attract and retain more women. Her circle began with seven graduate students in computer science, computer engineering and electrical engineering, but a larger group of 60 or 70 has formed that involves undergraduate women and those at nearby Oak Ridge National Laboratory,
Cisco
, Cadre5 and other companies. They have monthly meetups as well as a number of smaller circles out of the main group. "The No. 1 thing is that you're just outnumbered. So the environment is just one of those things you've just got to start weeding through," Koessler says. "One thing we've found is that in negotiating or planning out that next step in our career, we think way too far in the future. As a student getting ready to graduate, I'm getting married in the spring, and I find myself starting to make decisions about my career in three years based on whether I'm going to have a kid – and that's way too far in advance. I don't need to be worried about that right now." While Koessler's circles are just getting started, they've discussed issues such as the unwillingness of women to report sexual harassment for fear it will hurt their credibility, and faculty project advisors who give technical tasks to males but talk only in family terms to females. "All of these situations have been happening in a vacuum and we haven't reached out [previously] to each other to talk about them. [Being outnumbered,] it's not like you can walk over to the next desk and have that conversation," she observes. The best thing about the Lean In movement, Koessler believes, is getting conversations started. "We need to reach across the boundaries and find a platform where we can discuss our issues in common language and present them in a fashion that will be more friendly, though I don't know if 'friendly' is the right word there." She continues: "When I think back on listening to my mom's stories about the workplace, if anything gender-related came up, everyone was worried it would lead to a lawsuit. The whole point is to have a good conversation and come to a resolution in a neutral manner. We're looking forward to drawing those guys into our conversations. We haven't gotten there yet."