Is Donald Trump good for tech? According to data from the Bureau of Labor Statistics (BLS), tech
unemployment has reached record lows
with Trump in the Oval Office. We dove all the way back to the year 2000, analyzing tech unemployment ("Computer and Mathematical Occupations," specifically) each quarter. Under Trump (specifically the first quarter of 2018) tech unemployment was at 1.4 percent. The previous low in our research was 1.7 percent back in Q2 2000 under George W. Bush. The difference between those two data points is job creation. Bush was just coming into office, and riding a massive wave of job growth from Bill Clinton's eight years in office.
Zippia
also analyzed BLS data to surface that Clinton created the most jobs of any president going back to Jimmy Carter's term (1976-1980). Trump succeeded Barack Obama, who had the unenviable task of taking over at the nadir of the worst recession in modern history. It wasn't until his second term that job growth really took off... and never looked back. The first year of a presidency often enjoys a residual effect from its predecessor. Most times, it's positive (save for Obama, who took over as job numbers began to tank
hard
under Bush). Trump is bucking the trend of job growth trailing off, though; now into his second year, he's not seeing the same downturn in job growth as previous presidents. (Other Republican presidents such as Ronald Reagan, George H.W. Bush, and George W. Bush all saw job growth decline by their 16th month in office, with Reagan's downturn taking effect in his sixth month.)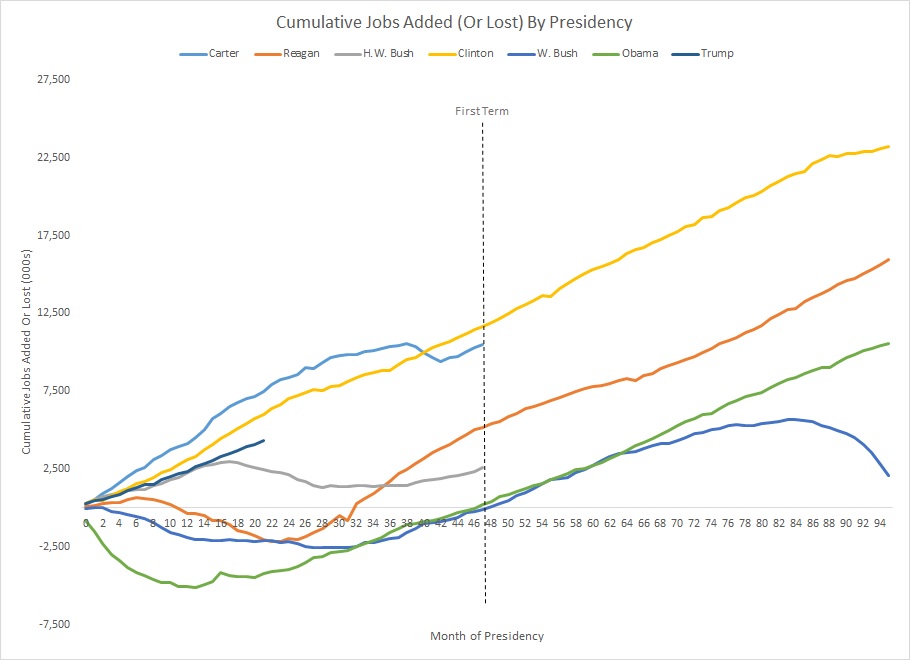 Trump Term Working for Tech, But We're Not Safe (Yet)
Say what you like about Donald Trump's behavior, policies, and procedural ignorance... the tech jobs market seems unfazed by it all. As you can see in the chart below, tech unemployment since 2000 has never been above 6.5 percent, reaching that point only twice: Q1 2003 and Q1 2010. The 2003 data-point represents the lowest job growth for Bush, but a period of resurgence for Obama. Trump's job growth numbers (so far) are trending steadily upward.
(We'll take a moment to note we purposefully limited our retrospective scope to the year 2000. In many ways, comparing the tech sector now to the Clinton or Reagan era seems incongruous. We could even argue analyzing tech unemployment pre-iPhone is a reach.)
Tech unemployment under Trump has never been above three percent, reaching that point in Q3 2016. But we'll express caution. Obama's tech unemployment ratio was at 1.9 percent his second quarter in office, and 5.7 percent nine months later. Less than two years after taking office (again, in a massive recession), tech unemployment was at 6.5 percent. Trump's tech unemployment numbers waver, but they're nothing
unpresidented
unprecedented. From Q4 2017 to Q2 2018, tech unemployment dropped from 2.8 percent down to 1.4 percent; that's a 50 percent drop in tech unemployment in six months. That's great, but not unique: Bush had the same 50 percent drop in 2005, and Obama's wild ride saw several similar peaks and valleys with regard to tech unemployment. It's worth pointing out that Trump is also taking steps to shore up these unemployment figures.
His administration's most recent proposal against the H-1B visa status quo
would see more advanced degree holders get visas, theoretically leaving more tech jobs open to citizens of the United States. The tech unemployment figures are promising, but we're in uncharted waters. Not adhering to the typical ebbs and flows of previous presidential terms and unemployment numbers isn't indicative of anything. The tentative space of this unknown universe may be worrisome; without predictors, we can't identify when a massive jobs downturn may come. It's almost impossible to identify why Trump has seen such successful tech unemployment figures this far into his term. It's possible Obama's legacy of economic growth is still in effect; the beginning of his tenure was also historically unique, so it's just as plausible the work done in those eight years is still holding fast. But it's just as likely the tech economy is bouncing to a different beat than the news cycle, nullifying any negative effect the president may have. Let's just hope the positivity continues.
For a full look at monthly tech unemployment data dating back to January 2000, please see our interactive chart below!