[caption id="attachment_10526" align="aligncenter" width="551"]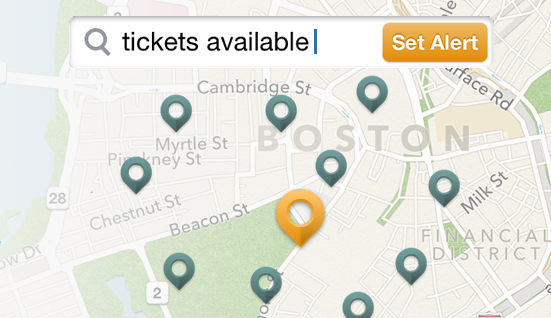 Spindle allowed users to set place and keyword alerts for local events.[/caption] Twitter may be angling for a slice of Foursquare's business. The micro-blogging service just acquired Spindle, an app that displays social updates from restaurants and other businesses on maps. Users can search by topics (shopping, nightlife, etc.), set place and keyword alerts, or simply tap and swipe the map to see whatever's happening nearby. The service had spread to twelve metropolitan areas across the country, from Seattle and Portland to New York City and Austin. "Every time we've experimented and looked beyond local discovery, we've been amazed by the breadth and quality of content shared on Twitter," read a note posted on
Spindle's corporate blog
. "By joining forces with Twitter, we can do so much more to help you find interesting, timely, and useful information about what's happening around you." Terms of the deal went undisclosed, but Spindle did announce that its service would sunset, or be shut down, today. If Twitter acquired Spindle to augment its location-related services—which seems the only logical reason, unless it simply wanted to keep the company out of a competitor's hands—it could create problems for Foursquare, which allows users to "check in" to various locations via their mobile device (and eventually become "mayor" if they rack up enough appearances within a short span of time). While Foursquare has grown steadily since its launch in 2009, it faces the same need as other social networks to monetize its data. In April,
a report in AdAge
suggested that Foursquare executives were examining the possibility of mining user information, with an eye toward eventually allowing advertisers "to use Foursquare data to target ads purchased through ad exchanges or networks." At the time, Foursquare offered
AdAge
a statement that reiterated its desire to safeguard user privacy, but didn't offer details about its future products: "We're really excited about our 2013 monetization roadmap, and will provide more details when the time comes." If Twitter introduces a similar location-based service, it would become a powerful competitor for users and advertising dollars, further pressuring Foursquare just as it (reportedly) seeks to further monetize its data. If that wasn't enough, Facebook has also shown increased interest in location-based and crowd-sourced services, with rumors suggesting it made a play for
mapping service Waze
earlier this year. But it could be some time before Twitter translates the assets from its latest acquisition into an actual service for its users.
Image: Spindle