Twitter engineers and the rest of the flock had plenty to tweet about Thursday afternoon, as the company finally announced it had filed for its long-awaited IPO. Twitter, however, submitted its IPO documents to the Securities and Exchange Commission "confidentially," meaning its financial condition will not be known publicly just yet. Here are two tweets Twitter sent out this afternoon regarding its IPO:

And here's its advice to employees...and all the Twitter gawkers...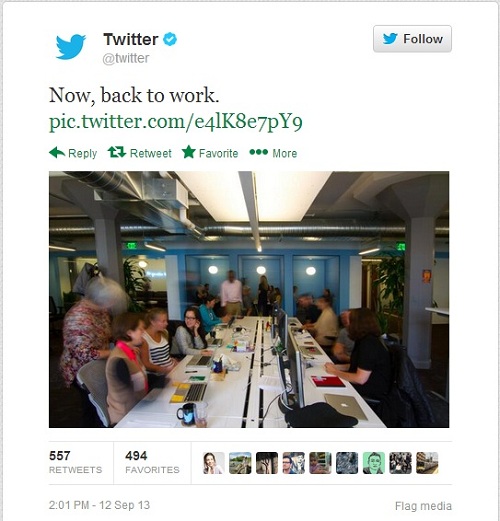 What this means for Twitter employees
With the IPO filing, the seven-year-old company is closer to appeasing new employees. According to a CNN report, Twitter in 2011 tweaked its stock options approach and began issuing new employees "restricted stock," which could only be converted to common shares after the company was acquired or launched an IPO. Restricted stock, unlike common shares, cannot be sold to investors. Also that year, Twitter imposed an uncommon restriction on its investors and those employees who held actual shares of stock that had vested -- they could not sell more than 20 percent of their Twitter stock, according to CNN. That policy contributed to a high number of defections of senior leaders from the social networking service, such as Evan Weaver, the company's Senior Technical Engineer who left last year, CNN noted, citing a copy of a Twitter survey it had reviewed. That survey found a sizable number of its workers were worried about those departures. The golden handcuff policy of a 20 percent restriction, as well as the new employee policy of issuing restricted stock options, all stem from the company's desire to keep its financial information under wraps as long as possible. By restricting the number of Twitter shareholders to 500 or less, federal regulations would not require the company to disclose its financial performance. But now as Twitter moves forward with its IPO, it will have less of a reason to keep its 20 percent restriction in place since its financial information will eventually become public. And, of course, the new employees holding the restricted stock will see their fortunes change, as well, once the IPO is launched.
Stay or Go?
It appears Twitter is looking to pacify its employees and may strike a deal with investment house BlackRock, in which it would purchase up to $80 million in Twitter stock from early Twitter employees, a TechCrunch article notes. And if Twitter is able to steer some greenbacks to employees before the IPO launch, it may find itself in a better position to retain top talent. And that is likely to give employees something to chirp about...