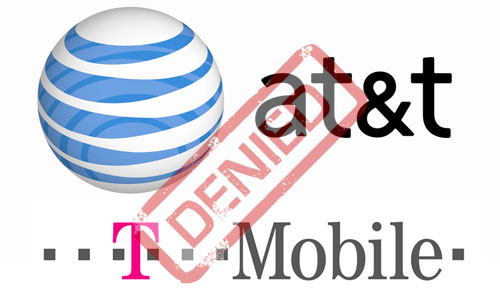 Last month there were reports saying that AT&T wanted to merge with T-Mobile for an estimate $39 billion. At the time, three House Democrats called the merger "a troubling backward step in federal public policy."
Today, the Justice Department filed a lawsuit in an attempt to block the acquisition, saying that the deal, if it went through, would "substantially lessen competition" in the wireless market. The department also contends the merger would violate antitrust law.
AT&T's elimination of T-Mobile as an independent, low - priced rival would remove a significant competitive force from the market.
AT&T responded to the lawsuit by saying it's surprised and disappointed. The merger, it argues, would benefit users by improving wireless service, 4G LTE and adding "tens of thousands of jobs".
We are surprised and disappointed by today's action, particularly since we have met repeatedly with the Department of Justice and there was no indication from the DOJ that this action was being contemplated. We plan to ask for an expedited hearing so the enormous benefits of this merger can be fully reviewed. The DOJ has the burden of proving alleged anti-competitive affects and we intend to vigorously contest this matter in court. At the end of the day, we believe facts will guide any final decision and the facts are clear. This merger will:

Help solve our nation's spectrum exhaust situation and improve wireless service for millions.
Allow AT&T to expand 4G LTE mobile broadband to another 55 million Americans, or 97% of the population;
Result in billions of additional investment and tens of thousands of jobs, at a time when our nation needs them most.

We remain confident that this merger is in the best interest of consumers and our country, and the facts will prevail in court.
Later, Federal Communications Commission Chairman Julius Genachowski issued a statement claiming that:
By filing suit today, the Department of Justice has concluded that AT&T's acquisition of T-Mobile would substantially lessen competition in violation of the antitrust laws. Competition is an essential component of the FCC's statutory public interest analysis, and although our process is not complete, the record before this agency also raises serious concerns about the impact of the proposed transaction on competition. Vibrant competition in wireless services is vital to innovation, investment, economic growth and job creation, and to drive our global leadership in mobile. Competition fosters consumer benefits, including more choices, better service and lower prices.
And to end the day in a good mood, even Sprint released a statement through its senior vice president of government affairs, Vonya B. McCann, saying it's glad the Department of Justice made the right decision for "consumers, competition and our country."
The DOJ today delivered a decisive victory for consumers, competition and our country. By filing suit to block AT&T's proposed takeover of T-Mobile, the DOJ has put consumers' interests first. Sprint applauds the DOJ for conducting a careful and thorough review and for reaching a just decision – one which will ensure that consumers continue to reap the benefits of a competitive U.S. wireless industry. Contrary to AT&T's assertions, today's action will preserve American jobs, strengthen the American economy, and encourage innovation.
Stay tuned. Source:
Bloomberg