Despite the tech industry's lament there aren't enough qualified workers to fill available jobs, a new report found onshore workers outperformed offshore workers on a number of key attributes. But by no means does that mean offshored IT and business process will be returning to the U.S. in waves, according to the report,
Around the World and Back Again: Sourcing Services in the USA
, by research firm HfS.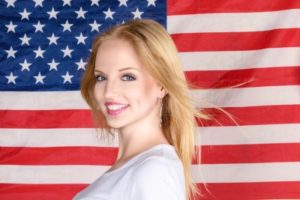 In its survey of 235 enterprise buyers and 270 outsourcing suppliers, HfS found that enterprises believe American workers are more innovative and more like to take the initiative. "The market is now realizing that the so-called softer skills – communications and contextual awareness – add real value to business and IT services delivery," says HfS. It also notes that, enterprise buyers "are waking up to the fact that there's a relationship between cultural understanding and performance."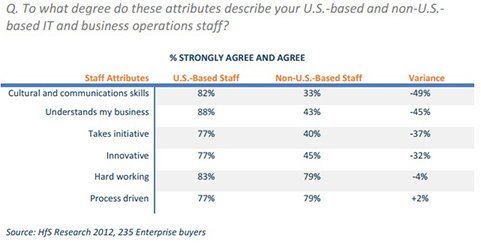 Such realizations may in part be driving companies like
Rural Sourcing
and
General Electric
to announce plans to
insource some of their IT work
. And last year, General Motors announced plans to
insource 8,500 jobs for IT workers over the next three to five years
.
Better Isn't Cheaper
Unfortunately, the strengths of U.S. workers are often not enough to prompt businesses to change their game plan and bring offshore jobs back home. According to HfS, offshore adopters say "they have spent significant time and resources building offshore management and governance capabilities, and the operational and financial risk associated with a 180-degree turn in services location is too great, while the perceived benefits are too difficult to determine at this stage." As a result, don't expect a wave of IT jobs to come home anytime soon. Only a third of enterprise buyers wanted to source their IT services work inside the U.S. Meanwhile, 32 percent of the IT leaders surveyed by research firm Bluewolf said they planned to
increase their outsourcing investments this year
.
H-1B Debate
Another issue that's often used to justify moving tech jobs overseas is the lack of qualified talent in the U.S., and thus a need to increase the cap for H-1B visa holders. Some companies have cited their willingness to locate operations offshore unless more domestic candidates become available. However, University of California at Berkeley Senior Economist Ashok Bardhan
doesn't buy it
. "Companies that say that are being somewhat disingenuous. Cap or no cap, they'd still move offshore," he told Dice News. "The motivations for onshore foreign hiring versus offshoring involves many calculations, including unit labor costs, the need for physical presence, market access, internal firm coordination issues, consumer feedback, and the like. It's not so cut-and-dried."