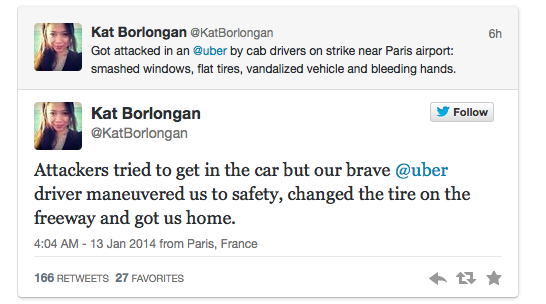 Parisian cab drivers, anxious about their jobs despite a new French law designed to protect traditional taxi companies from the new generation of car-service apps, reportedly attacked an Uber car carrying two technology executives from a Paris airport. Some cab drivers
have been on strike
over the car-app issue, using their vehicles to jam up traffic on several highways around Paris. Five by Five co-founder Kat Borlongan, traveling in the Uber vehicle with Eventbrite CTO Renaud Visage, issued multiple Tweets about the incident. "Attackers tried to get in the car but our brave @uber driver maneuvered us to safety, changed the tire on the freeway and got us home,"
she wrote
on Jan. 13. Under the new law that took effect January 1, cars summoned via app must wait a minimum of 15 minutes before picking up a passenger, which supposedly gives "traditional" cabs an advantage in the open marketplace. Uber and
Allocab
(a similar service) are actively pushing back against the law, but overturning it could prove difficult in a country that regularly expends quite a bit of effort to protect traditional industries and their workers.
In a statement to VentureBeat
, an Uber spokesperson confirmed the incident and condemned the violence:
"That the taxis chose to use violence today is unacceptable, that they chose to strike is their business. However, Parisians also have a choice when it comes to moving around in their cities, and today's incident will certainly not tempt Parisians into choosing a taxi for their next ride."
That statement helpfully added:
"Safety, reliability and choice, not violence, are what continues to draw customers towards private hire vehicles."
According to
Rude Baguette
, which bills itself as "France's Startup Blog," Uber has confirmed more than a dozen attacks on its cars in Paris and Lyon. "The right to protest has always been powerfully upheld in France—whether it's protesting an immigrant's right to healthcare, the closing of a factory, or even Taxis, who have perfected the art of making their voice heard," its posting asked, before adding, however rhetorically: "How much is too much?" This isn't the first time that Uber's sparked a labor dispute, although the incidents in France are easily the most violent yet. On this side of the Atlantic, attempts to push back against car-service apps have generally met with an underwhelming response. In October 2013, for example, a number of UberX drivers in Boston
reportedly planned to strike
one afternoon in response to a rate cut (UberX is a low-cost program from Uber.), but that protest fizzled out. "One hour into reported strike, we have not seen any impact on availability or service levels… will continue to keep you posted," Uber CEO Travis Kalanick
Tweeted Oct. 24
; by late that afternoon, UberX in Boston supposedly had more than enough supply to meet demand. Many of the premier firms of the so-called "sharing economy," including Uber and Airbnb, are battling with deeply entrenched industries and government regulators. The heads of these companies argue that stodgy institutions deserve to crumble in the face of a new, more efficient model. As the situation in France demonstrates, however, some advocates of those traditional business models aren't going down without a (literal) fight.
Image: @KatBorlongan