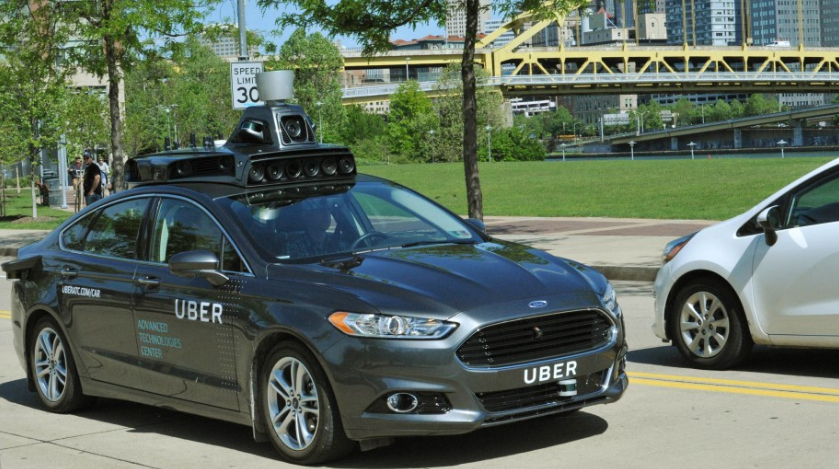 Watch out, Google: Uber has put its own self-driving cars on the road. In its bid to create autonomous vehicles capable of driving ride-share clients from point A to B, Uber has modified a hybrid Ford Fusion with sensors, laser scanners, and high-resolution cameras. The car will drive the streets of Pittsburgh, PA, where Uber maintains a research lab. "Right now we're focused on getting the technology right and ensuring it's safe for everyone on the road—pedestrians, cyclists and other drivers," Uber wrote in a
corporate blog posting
. "We've informed local officials and law enforcement about our testing in Pittsburgh, and our work would not be possible without the support we've received from the region's leaders." The establishment of Uber's Pittsburgh lab is an epic tale of ambition and ultra-aggressive hiring. Rather than cobble together a staff of tech pros from various universities and companies, Uber opted to poach most of nearby Carnegie Mellon University's robotics center. "Uber snatched up about 50 people from Carnegie Mellon, including many from its highest ranks,"
reported The Verge
at the time. "That's an unusually high number of people to leave at once, and accounted for about a third of the staff NREC [Carnegie Mellon's Natural Robotics Engineering Center] had at the end of last year." In exchange, Uber promised to fund faculty chairs and graduate fellowships at Carnegie Mellon, and share research. Even so, the university faces the unenviable task of rebuilding its ranks of researchers. Uber CEO Travis Kalanick has said that the public transition to self-driving cars will be long; nor will the technology work in all circumstances. "They will work in certain places and not others," he told an audience at a TED conference earlier this year,
according to Forbes
. Nonetheless, the prospect of self-driving automobiles has made some Uber contractors nervous for their jobs. If you're interested in breaking into the self-driving car industry, there's good news: the number of open positions will likely increase in coming years, as more companies begin to work with the technology. Actually landing a job, however, will hinge on
finding a particular niche
, and demonstrating that you have the right skills. But even if autonomous vehicles hold no interest for you, chances are good you might see one on the road soon—especially if you live in Pittsburgh.