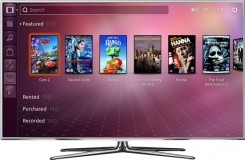 While the rumors of an Apple TV still circulate, Canonical unveiled a real working Ubuntu TV at the Consumer Electronics Show in Las Vegas. PC Pro
is reporting
that an Ubuntu powered TV will likely be on the shelves by the end of the year.
"It's a simple viewing experience for online video, both your own and routed over the internet," Jane Silber, Canonical's CEO told PC Pro. Movie streaming services will be supported as well as live television broadcasts.
Canonical seems to have a bit of a head start and have learned a bit from Google, adopting the Android strategy of providing the software for free to manufacturers. Will they get the scoop on Apple, or will the boys in Cupertino swoop in pre-Christmas with another elegant got-to-have-it product in this niche? Only time will tell.