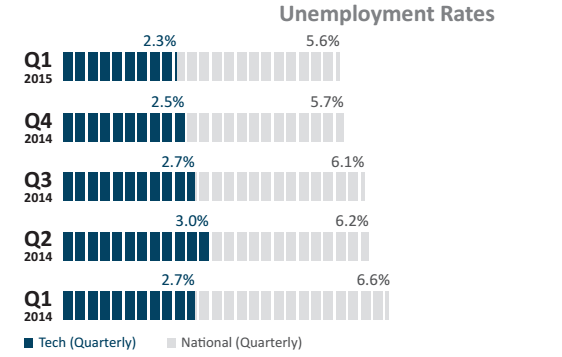 It's good times for tech pros, according to the latest burst of unemployment data from the U.S. Bureau of Labor Statistics,
as analyzed by Dice (PDF)
. Not only did the unemployment rate for the tech industry hit 2.3 percent in the first quarter of the year—the lowest rate recorded in nearly seven years—but unemployment rates also declined for the following specialties:
Of course, that doesn't mean everybody's enjoying the benefits of a robust economy: Some tech titans
have laid off tech workers
, and even buzzed-about startups with lots of venture funding
have shut down
. But those pockets of weakness haven't dissuaded an increasing number of tech pros from voluntarily quitting in search of better opportunities. Early data from the Bureau of Labor Statistics suggests that just over a million tech pros left their jobs of their own volition in the first two months of the year, slightly more on average than the 471,300 employees per month who departed in the fourth quarter of 2014. And the better opportunities are out there: According to
Dice's most recent annual salary survey
, tech pros earned $89,450 on average in 2014, up 2 percent from 2013. The tech industry's continuing momentum—and dipping unemployment rate—suggests that number will only continue to rise this year. The big question is whether the good times will continue to roll for everyone, or if certain specialties will outpace others on the employment front.
Related Articles
Upload Your ResumeEmployers want candidates like you. Upload your resume. Show them you're awesome.
Image: Dice/Data from U.S. Bureau of Labor Statistics