[caption id="attachment_11357" align="aligncenter" width="600"]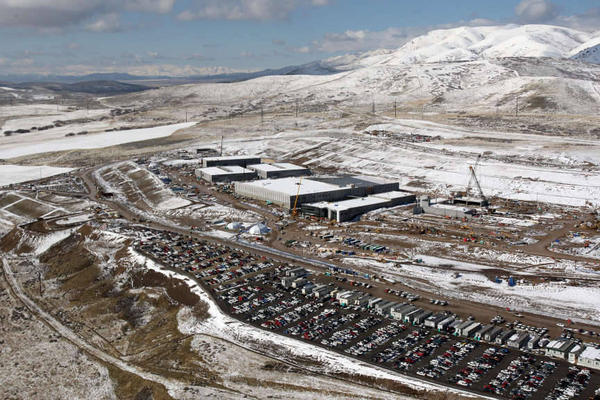 The NSA's Utah facility under construction.[/caption] They may not all support what the NSA will do with
its giant new datacenter in Bluffdale
, but Utah officials do seem to agree on the value of having a world-class, $1.5 billion datacenter built in their territory. In general, they're for it, and are proving that by changing a law that would have
added about $2.4 million in taxes
to the datacenter's power bill—an addition that was an unpleasant surprise to NSA officials when they heard about it in May.
A bill signed into law April 1
imposed a tax of up to 6 percent on electricity from Rocky Mountain Power, a requirement the NSA protested in an email to Utah Gov. Gary Herbert April 26. State tax agencies swear they informed the NSA about the impact of the law when it was still under debate; NSA officials denied knowing anything about it and complained that it would make Utah a less attractive site for the datacenter, which was only three to four months from completion at the time. "We are quite concerned [about] this," Harvey Davis, NSA director of installations and logistics, wrote in
an email
obtained by the
Salt Lake Tribune
through an open-records request. "The long and short of it is: Long-term stability in the utility rates was a major factor in Utah being selected as our site for our $1.5 billion construction at Camp Williams. [The tax bill] HB325 runs counter to what we expected." Politics played a role in the final selection of Utah as site for the datacenter, but it was stable cost, ample supply and redundancy of power—as well as availability of water and no history of earthquakes or other natural disasters—that put the Bluffdale, Utah site on the short list during the NSA's selection process, according to the NSA's
Davis in an interview with the Salt Lake Tribune
. As in many other states,
concessions made by government officials to cut taxes
or other costs on a new facility played a role as well. NSA officials were piqued at hearing about the power tax because a promise not to raise taxes on the facility for six years was one of the concessions made by then-Gov. John Huntsman when he was trying to lure the huge project to his state. (Negotiations started in 2005 and continued through 2009, when Hunstman left office.) The NSA datacenter contract
was awarded in 2010
. U.S. Army Corps of Engineers estimates show the NSA datacenter should draw an average of 65 megawatts of electricity at any one time, which would cost about $40 million per year—a number that would have gone up $2.4 million if the new tax had been imposed. Some state officials apparently knew about the promise, but the
Utah Military Installation Development Authority (MIDA)
—which the tax was created to benefit and which was responsible for imposing it—knew nothing about a no-tax promise, at first. It knows now, according to Rick Mayfield, director of MIDA, who announced yesterday that an attorney from MIDA was negotiating with one from NSA to write an amendment exempting the datacenter from the increased power tax. It isn't clear if the exemption would be for six years or be permanent. The Utah Legislature would vote on the bill when it comes back into session in January. "What we didn't understand was the prior administration made a promise that for six years there wouldn't be an increase," Mayfield told Nate Carlisle, the
Salt Lake Tribune
reporter responsible for breaking much of the concrete information about the NSA data center.
Image: NSA