It's being called
Yelp
for people and the new "reputation marketplace" is causing quite a stir. The beta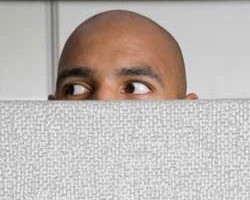 version of the new Web site
Unvarnished
debuted a few weeks ago amid a flurry of criticism, because it solicits community-contributed comments about a person's professional reputation and competency, with no way to edit or retract them. Others can weigh-in about the opinions posted on the site, which leaves professionals with few options but to protect their virtual backsides. Here's how Unvarnished describes itself:
Unvarnished reviews are community-contributed, business-focused assessments of professional performance. To help reviewers be honest and candid in their reviews, Unvarnished obscures the identity of review authors. This lets reviewers share their true, nuanced opinions without fear of repercussions.
No problem you say, because you won't create a profile on the site. Think again, someone else can create your profile just so they can post comments. Some 400,000 people in the Silicon Valley contributed their profiles for the beta, and based upon the candor of some technical professionals, the test could get interesting. Of course there is no way to know if the comments will be defamatory, but even though users access the site through
Facebook
to verify their identities, and new users must be invited to join, the site doesn't feature the same professional etiquette or protocols as other professional networking sites. So what should you do while the beta test is underway?
Avoid posting on the site, and never post any defamatory comments about bosses or co-workers on the Internet. Based upon what you write, it may be possible for others to peg you as the author and attorneys were predicting a plethora of lawsuits over Unvarnished's content. Yikes!!
Monitor your online reputation. Set-up a search agent using your name, so you can keep tabs on what others might be saying about you on the Internet. Stick with professional networking sites that vow to bolster careers instead of destroying them.
--
Leslie Stevens-Huffman