The so-called "Great Resignation" has generated headlines for months. Across the country, millions of workers are quitting their jobs, often because they're interested in exploring new opportunities. Are software developers among them?
According to Stack Overflow's latest survey, a slight majority of developers (54 percent) said they're not actively looking for a new position, but they're open if the right opportunity comes along. Another 25 percent said they're actively looking for a new role, while 20 percent claimed they weren't interested in a new job.
"About 75 percent of developers are either actively looking for a job or open to new opportunities," stated Stack Overflow's blog posting accompanying the data. "When asked why, about 65 percent named salary as the primary reason, with 39 percent wanting to work with new technologies, 36 percent wanting better work-life balance, and 35 percent seeking growth or leadership opportunities."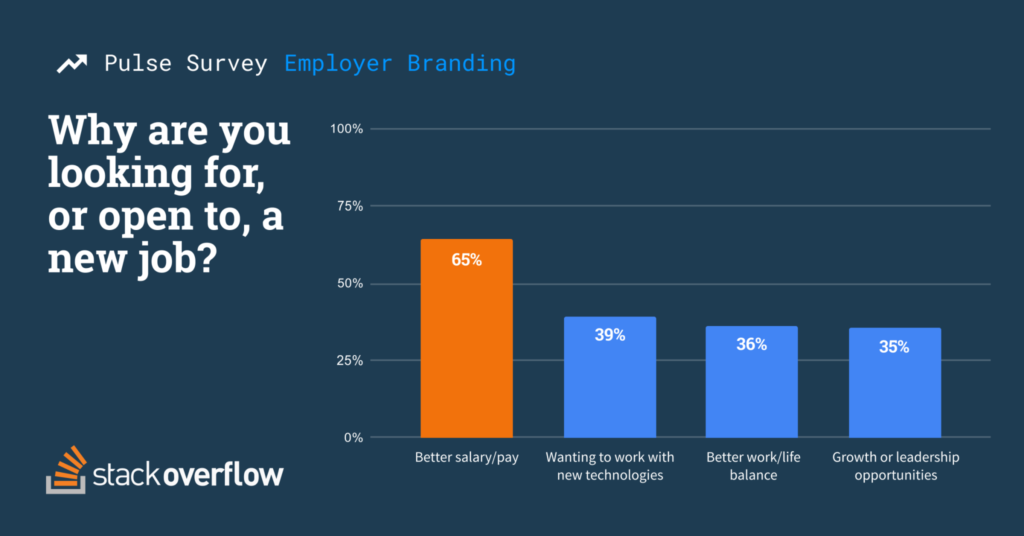 Some 500 developers participated in the survey. It's also interesting to note that 53 percent said they wanted a company that prioritized the "developer experience," while another 41 percent wanted transparency in salary calculations. Slightly fewer (40 percent) wanted a company that allowed them to learn from colleagues on other teams, while 35 percent wanted a structured onboarding process and 33 percent wanted the ability to consult with experts within the company.
The tech unemployment rate hit 2.6 percent in November, rising slightly from 2.1 percent in October, according to a new analysis of U.S. Bureau of Labor Statistics (BLS) data by CompTIA. "Despite the frenzied pace, it's a great a time for both technology professionals and employers to explore new opportunities, reinvest in skills and career development, and prepare to embrace the latest innovations," Tim Herbert, executive vice president for research and market intelligence at CompTIA, wrote in a statement accompanying that data.
For software developers (and other technologists), it's clearly a good time to explore new opportunities—or to use the current demand for technology skills to negotiate for better compensation and/or benefits from your current employer. Whatever path you take, make sure you add both technical skills and "soft skills" to your résumé—and make sure your online profiles, code repos, and personal websites all put you in the best possible light.