Forrester analyst Sarah Rotman has an insightful definition of just what the post-PC era—a world of iPads, Chromebooks, smartphones and cloud comuting—encompasses. But don't get the wrong idea: The PC ain't dead yet. Forrester predicts that in 2015, when 82 million U.S. consumers will own a tablet, 140 million will own a laptop.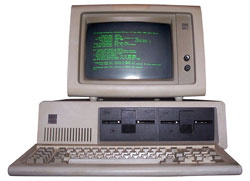 What will be different in the post-PC era? Rotman outlines four major shifts:
Stationary to ubiquitous. Contrast the experience of computing on a desktop PC, in one place with a clear start and finish time, to that of the anytime/anywhere computing done on a smartphone or tablet. Ubiquitous computing is also more context-aware computing, aided by sensors like accelerometers, gyroscopes, and geolocators in smartphones and tablets. Formal to casual. In contrast to PC interactions with a formal start and finish time marked by booting up and shutting down, instant-on/always-on computing on smartphones and tablets fills in-between moments like standing in line or watching TV. Arms-length to intimate. With desktops, computing is literally an arms-length activity. With portable form factors like laptops, netbooks, and tablets, computers become something consumers keep close to their body, and they use them in intimate places: The No. 1 place all three devices are used in the home is the living room, followed by an adult's bedroom. Abstracted to physical. The mouse/keyboard paradigm relies on an abstracted interaction with content. Touchscreens like those on smartphones and tablets enable direct physical manipulation of content in two-dimensional space. Cameras with facial recognition, voice sensors, and motion sensors like those on the Microsoft Kinect for Xbox 360 permit an even wider range of physical interaction with devices, where a user's body and voice become the controller.
Thinking about these shifts leads me to think about how our workplace computing experience will be changing. It's been 30 years since the launch of IBM's first PC, yet it sometimes feels like we're just getting started. Source:
Forrester Blogs
Photo Credit:
Boffy B via Wikiemedia