Ramin Shokrizade's
article in GamaSutra
on the top F2P monetization tricks was the reason I quit King's Candy Crush Saga in July after playing it nearly every day since January.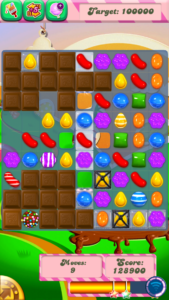 I'd got up to about level 133, not even half way through the 300+ levels the game offers, but had struggled a lot on some of the ones I'd recently hit. I'm not quite the target demographic (80 percent of Candy Crush Saga players are women) but I've always enjoyed Match Three games and was slightly prophetic
in an article
I wrote last year on Match Three mechanics. As a game designer, I'm in awe of the way CCS took the basic concept and evolved it through the addition of time bombs, evil chocolate, striped and wrapped sweets and several other mechanics. It's a high performance super car in comparison to Bejeweled Blitz's Model T Ford. Each collection of themed levels in CCS gives a new flavor to the game, plus the combination of dropping ingredients, collecting jelly or acquiring points in a given time adds plenty of variety. In particular getting a striped sweet next to a colored ball, or even better, combining two colored balls, provides an almost visceral feeling of satisfaction and is usually enough to finish the level.
A Massive Success
According to figures released by monetization company Think Gaming, over the period May to July CCS
brought in $632,867 a day,
with 225,000 daily installs on iOS in the U.S. market. So that leaves out Facebook, Android and non-U.S. iOS users, meaning the true revenue figures are likely to be considerably higher. Not surprisingly, the game's been ranked No. 1 among top grossing Apps and No. 2 on top free apps. That's an annualized figure of approximately $200 million. Not bad for a free game. Clearly King (rebranded from King.com
in March 2013
) has got the Midas touch. Indeed, it's been so successful it's
removed in-game advertisements
from all of its titles.
So Why Did I Quit?
Back in February I spent about three weeks on level CCS 75. It was my first inkling of how difficult the game could get, but I eventually fluked it and reached a bridge point. These are sections in the game where you get friends to help you, or you pay 99 cents to cross immediately. I'm not a big spender in games -- probably $20 a year -- but I'd enjoyed the play so far and knew one or two people who were ahead of me, so I paid. This is what GamaSutra's Shokrizade calls a "Progress Gate." Technically, it's a soft gate. With friends sending help requests and lives, I could have gotten through in a day or two but I wanted to continue right away. Paying 99 cents marked me as a spender and the game difficulty would become a bit harder for me than it would for players who never paid. Shokrizade surmises that the CCS has switched from being a game of skill to a money game. Of course, I don't know that. Well, I didn't until I read his article, and that's when I decided to quit. Before that I'd just thought the game was getting harder, which is what you would expect.
Time Bombs in particular could lose a life very quickly without finishing the level. With only five lives available unless you pay for more and recharging at a rate of about two an hour, time bomb levels could be quite frustrating. To help solve a tough level there are various Boosts that you can buy and play. I'd tried out the free ones provided as a taster on the Facebook Web version but managed to clear all the iPhone levels without boosts. It was the realization that as a money game player I would be given more difficult levels that was the final straw. Trying to catch up with skill players would be next to impossible.
How Do They Gauge Difficulty?
This is a guess, but if it was me I'd write a program to play a speeded up version of CCS running, say, 100 games a second. I'd then have it run each level a few million times with the varying number of moves available and note what percentage of levels got cleared. A level that is cleared 5 percent of the time with 50 moves might only be cleared 2 percent of the time with 45 moves. So the skill player gets 50 moves, the money player gets 45. I don't blame King for using these techniques in CCS. They have clearly got a great grasp of F2P as a business model. As a designer, though, I'm not so sure I want to go down that path.