[caption id="attachment_4137" align="aligncenter" width="618"]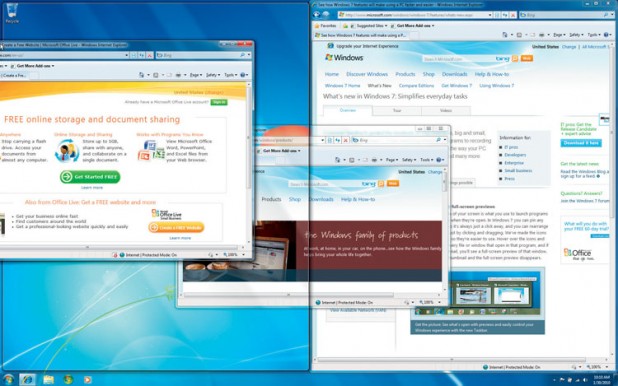 Windows 7 may have overtaken Windows XP, but the battle-lines between Microsoft and its rivals has shifted more and more to mobility and the cloud.[/caption] It took almost exactly three years, but it seems that Windows 7 has finally taken Windows XP's crown as most popular operating system. That's according to
Net Applications
, which monitors the market-shares of various operating systems. Even as three-year-old Windows 7 jockeyed for that top spot with decade-old Windows XP, Windows Vista—released almost six years ago—fell behind the combined versions of Mac OS X, 6.15 percent to 7.13 percent. That's an unsurprising development, considering the popularity of Apple products and the dim reputation of Vista, which never managed to overcome a spate of early negative reviews. And none of it matters. Actually, that's a bit of exaggeration—hundreds of millions of people still rely on PCs running operating systems descended from software first developed in the 1980s. But with the advent of smartphones and tablets, the center of more and more peoples' computing lives has shifted from PCs to mobile devices. They spend as much time interacting with Apple's iOS and Android as they do with Windows and Mac OS X. Apple has realized for quite some time that it's first and foremost a mobile company, and not just because the iPhone and iPad bring in an enormous slice of its overall revenue. Software created for iOS, such as the App Store, is finding its way (in modified form) to Mac OS X. With each succeeding generation, its computer hardware becomes slimmer and lighter. Microsoft is also gravitating more towards mobile.
Its upcoming Windows 8
is a radical departure from previous editions of Windows; instead of a desktop environment with folders and icons, the user is greeted by a Start screen of colorful tiles linked to applications; those wanting the "traditional" user interface need to tap or click on one of those tiles in order to access it. This dual environment is meant to make Windows 8 equally at home on both PCs and touch-screen tablets that rely heavily on the cloud for functionality. The design shares DNA with Windows Phone, which was the first Microsoft product to embrace the tile-centric aesthetic formerly known as "Metro." Microsoft needs Windows 8 devices to make significant headway in the mobile-device market against
Apple's iPad
and a plethora of Google Android tablets. At the same time, it also needs the operating system to preserve Microsoft's dominant place in the traditional OS arena. Those two goals make Windows 8 a substantial—and risky—bet. But it's also a bet that Microsoft needs to make: Windows 7 and Windows XP are operating systems used by millions, but their underlying model is very much a relic of the last century. The future relies on mobility and the cloud.
Image: Microsoft