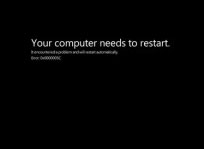 Users of the Windows OS have all been aware of the
Blue screen of Death (BSOD)
, an error screen which turns your desktop screen into a blue background with lots of numbers related to certain error circumstances. A little look inside the new Operating System being developed by Microsoft, Windows 8, suggests that the infamous BSOD will be replaced by a slightly more attractive graphical error screen which is black instead of blue. The brief preview of Windows 8 also suggests that the error message will display the message
"Your computer needs to restart."
Millions of people have been heart-broken when they see the fatal blue screen. Now Microsoft is making a broad attempt to rectify their frustration. Compared to other companies, Microsoft's been colorful in its ways of showing us error messages. An example is the dreaded
red ring of death(RROD)
seen on the Xbox 360. It's presumed Microsoft is still experimenting with ideas for its new computing system, however this change could be one which will bring a whole new perspective to Windows. This attempt to paint the crash screen a different color has been tried in older versions of the OS, so it's questionable that this change will be there when we can upgrade to Windows 8.
Window 8
will remain a mystery until probably
autumn
, when we expect Microsoft to make an official announcement regarding its release. Source:
Tech Radar
VIA