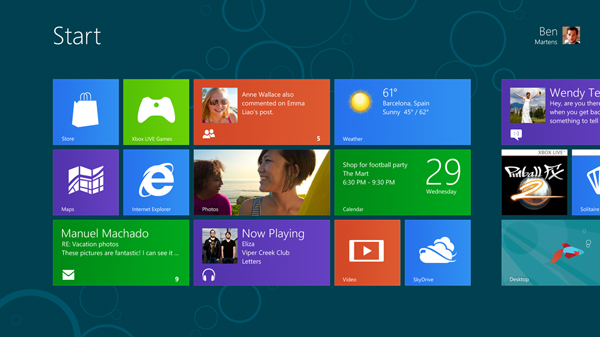 Microsoft is betting big that Windows 8, its next-generation operating system due later this year, will prove a resounding hit with consumers and businesses. However, Windows 8 faces a tech landscape radically different from the one that greeted any of its predecessors, including Windows 7. For starters, cloud services and platforms are proliferating at an insane clip; your average PC user can navigate their entire day without needing any sort of desktop-based app, only a browser and a decent Web connection. One of Microsoft's biggest rivals, Google, is already rushing to take advantage of this brave new world with its Chrome OS, a browser-based operating system installed on laptops manufactured (so far) by Samsung and Acer. Those "Chromebooks" offer Google's suite of online services and a selection of cloud apps via the Chrome Web Store. Microsoft's other operating-system rival, Apple, has also incorporated more and more cloud features into its Mac OS X. In addition to an App Store, the iCloud platform allows users to wirelessly sync content across their ecosystem of iOS and Mac OS X devices. Second, mobile devices such as smartphones and tablets are beginning to eclipse PCs as the center of peoples' computing lives. In light of all that, Windows 8 must walk the equivalent of a loose tightrope in a gale-force wind, over an enormous pit of white-hot fire. It must carry forward the legacy of previous Windows operating systems, offering the ability to run desktop-based, resource-hogging applications; it must appeal as best as possible to these new cloud and mobile paradigms; and it must sell enough licenses to prevent any
Windows Vista
-style debacle. Microsoft's most visible solution is a Start screen rendered in the same "Metro" design interface that defines the company's Windows Phone and revamped Xbox dashboard (see the above image, of the Windows 8 Consumer Preview's Start screen, for an idea). The large and colorful tiles, linked to applications and capable of displaying all manner of active data, can be touched (if Windows 8 is running on a tablet) or clicked on (in the case of PCs with mice or touch-pads) with equal facility. (Windows 8 on tablets is a huge part of Microsoft's plans for competing in the market, and Redmond desperately wants its hardware partners to create devices capable of battling toe-to-toe with the iPad and the higher-end Google Android touchscreens.
Neowin
recently leaked the purported specs for Dell's upcoming Windows 8 tablet, which included a 10.8-inch screen with 1366 x 768 resolution, 1.57 pound "starting weight," an Intel Clover Trail Atom dual-core processor, up to 128GB solid-state drive storage, and a variety of accessories.) From there, the user can jump to a more "traditional" Windows interface, i.e. the familiar desktop. Within that environment, Microsoft has made some significant tweaks to the user interface and feature set, including the introduction of the semi-dreaded ribbon to Windows Explorer. Microsoft is also releasing a version of Windows for ARM-based devices such as tablets. This iteration, known as Windows RT, is seen by outsiders as Microsoft's answer to Apple's iPad: a lightweight system that emphasizes workability with a regulated selection of largely cloud-based apps (in Microsoft's case, "Metro"-style apps built to tight specs by third-party developers). Since last month,
the blogosphere has buzzed
about Windows RT lacking support group policies, a requirement of enterprise IT administrators who need to control their networks, as well as domain joining, which in theory would exclude any Windows RT devices from connecting to a corporate network. When asked about Windows RT's support group policies and domain joining, a Microsoft spokesperson declined comment. Windows 8 will feature a browser (obviously) and built-in app store, as well as tight integration with cloud-based Microsoft services such as SkyDrive. Those are all points in its favor, in terms of embracing cloud apps. The situation with group policies and domain joining could hurt Windows RT in the business-cloud arena, but Microsoft could intend that particular Windows product as more of a consumer play. Whether Windows 8 will succeed or fail as a cloud (and mobile) platform could depend largely on the willingness of third-party developers to create useful and/or fun apps. But the larger success of Windows 8 will hinge on much bigger factors, including if people are willing to make yet another upgrade after adopting Windows 7—or jumping to Apple's camp—a few short years ago.
Image: Microsoft