Yahoo Chief Executive Marissa Mayer and Facebook Chief Operating Officer Sheryl Sandberg are among the latest to join the elite group of high profile technology executives who are women. They joined such notable CEOs as
HP's
Meg Whitman,
Xerox's
Ursula Burns and
IBM's
Ginni Rometty. But their achievements don't come close to telling the full story. For nearly a decade, the pool of women in IT has remained roughly a quarter of the technology workforce, demonstrating little advance despite their comprising approximately half of the overall civilian workforce in 2012, according to the Bureau of Labor Statistics. And the challenges and frustrations women in IT confront at each juncture of their career paths remain unique when compared to the experiences of their male counterparts.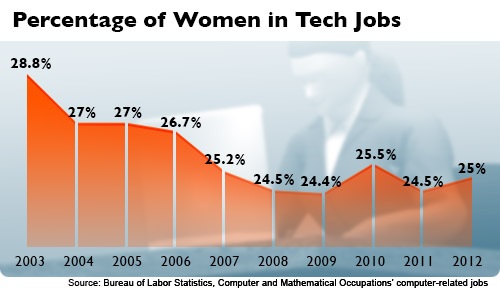 During their job search, for example, new graduates rarely encounter other women who would be their senior managers. That's not surprising, given that only 4 percent of technical or R&D leaders at Silicon Valley startups are women, according to a report from National Center for Women & Information and Technology (NCWIT),
Women in IT: The Facts
. Several attendees at a recent Women Who Code meetup in San Francisco noted that they encountered no women during the interview process for jobs they sought right out of college. For recent graduate and software engineer Amanda Canyon, the situation presented a little "weirdness" in one of her initial job interviews, before eventually landing a job at the San Francisco-based apartment search engine Apartment List.
New Gal on the Block
Software engineer Katlyn Daniluk, who's been in the business for two years and works at the San Francisco cloud-based collaboration and project management company Mavenlink, says she's not surprised that there were no women engineers at companies she interviewed with early on. She encountered so few women in her engineering classes, she was prepared for the dynamic. For her – and for many women -- working in a predominately male environment presents challenges that men don't face. For example, she often has to work harder in order to make her voice heard during the work day.
Dropping Out
Daniluk and Georgia Andrews, who's been in the business for about two years as a software engineer at insurance-industry software provider
Guidewire Software
in Foster City, Calif., are reaching a relatively critical stage in their careers. In 2003 only 33 percent of the women who earned a bachelor's degree in computer science were still working in an engineering, science or technical job two years later, according to NCWIT. For men, the retention rate was much higher: 50 percent were still in the industry during the same timeframe.
The Special Report:
Women in IT Face Down Stereotypes and Bias
The issues that lead to so many departures include a sense of isolation and a need to push harder than men to make a point. Plus, many women lack the support of role models or mentors at this critical stage. Andrews notes while she has a great working relationship with her co-workers – both male and female -- she appreciates working with women in lead IT roles. For example, her female team lead has convinced her that she, too, has the potential to move into a leadership position at their company. And while she hasn't yet actively sought out a mentor, Andrews has found a number of other women who serve as role models.
Mid-Career Crater
The toughest period for women in technology seems to come 10 to 20 years into their career. It's at that point that attrition spikes sharply, according to the NCWIT. After a decade, 41 percent of women leave technology, compared to just 17 percent of men. And as the range stretches out to 20 years, the percentage of women who leave climbs to 56 percent.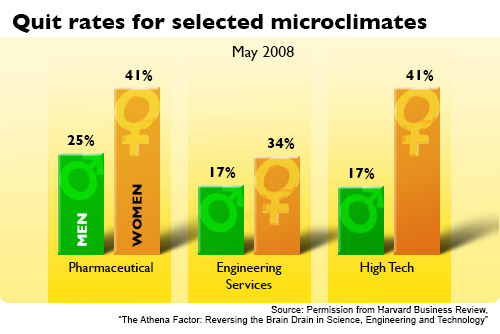 One reason many women leave is to start their own business, says Telle Whitney, CEO of the Anita Borg Institute, an organization that advocates for women in computer science and engineering roles. "The growth in women-owned businesses is staggering," she says. "You take a traditional job and trade it in for one where there is flexibility."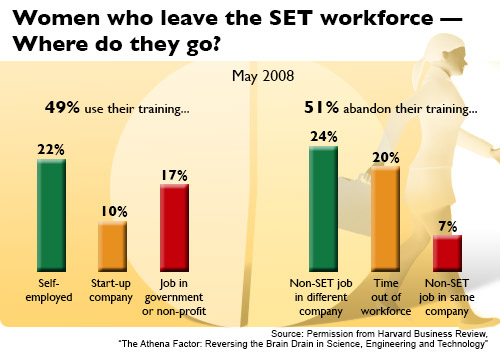 Another reason women depart is a lack of advancement, according to NCWIT CEO Lucy Sanders. "When women have kids and the bulk of the household work, they get busier. And if they think they've reached a career plateau, they're likely to go somewhere else," she observes. "Often, women complain about job satisfaction when they hold low-status IT jobs. So, when you get to be mid-career but still hold a low-status job, that may be when you leave." Sanders notes there are not enough female chief technology officers or R&D vice. NCWIT's
Women in IT: The Facts
notes that only 9 percent of IT management positions such as CTO, CIO, vice president and director are held by women. That figure is far below the 25 percent that women represent in IT. That 9 percent figure makes it difficult to demonstrate a promising career path for women considering technical careers. "There's a cultural, unconscious bias," Sanders says when asked about why women may be excluded from roles like technical fellow, R&D vice president and CTO. For example, say a company names some employees distinguished engineers and fellows. If all of these are men, and the committee to select next year's fellows relies on its past recipients, women may have a more difficult time understanding what it takes to join the elite group. "Society has a bias when it comes to women and men in tech. This has been documented in a number of ways. If you take the same resume and put a woman's name on it, the woman is judged more harshly than the man," says Sanders. "In many technical organizations, women start out under-represented in creative technology jobs, where they are the visionary and making choices of what will go into a product or service." As a result, they're put on a career track that may eventually lead to a CIO position, which is more about buying and using technology than creating new services for the company's customers to use.
Future Fixes
The Anita Borg Institute's Whitney sees the solution as coming from inside companies themselves. Ideally, she says, technology organizations would search for the best and brightest women within their ranks and provide mentorship opportunities and other support early in their careers. "It's critical for women to understand a career path," she explains. "Young women come into a company to contribute in a technical way, but they're steered toward management or project management, rather than a technical path. And when there are zero women fellows, companies wonder what happened."