About one in three employees -- 32 percent -- say getting a raise is among their top work-related resolutions for 2014, according to
Glassdoor's Q4 2013 Employment Confidence Survey
. Looking for a new job (22 percent) and developing leadership skills (20 percent) are also high on the list. Of those surveyed, 42 percent anticipate getting a raise in 2014, a two-year high. Employees in the Northeast (49 percent) are more optimistic about scoring an increase than employees in the West (36 percent).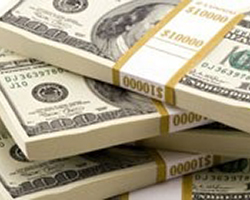 Two in five employees, including the self-employed, say it's likely they could find a job matched to their experience and current compensation levels within the next six months if they had to. More than one in three unemployed job seekers believes they can find an appropriate job within the same timeframe. "Employees are beginning to feel more sure-footed in the economy and the job market, and in turn are hopeful and more confident about their chances of seeing their compensation rise," said
Rusty Rueff
, Glassdoor career and workplace expert. "If economic and business news continue to show signs of furthering stability, we will undoubtedly begin to see greater employee confidence, which will in turn catalyze more movement within the employment pool." Employees, again including the self-employed, were polled about their job search expectations during the next three years, assuming the economy stays the same or improves. According to the survey, one in five say they'd consider looking for a new job in the next three months. About one in three say they'll consider job hunting in less than a year, while 7 percent say in the next one to two years. Six percent say they'll consider looking in the next three or more years. Meanwhile, nearly 50 percent of those surveyed expect their company's business outlook to stay the same over the next six months, while 42 percent expect it to improve. That's up 2 percentage points from the previous quarter. About 10 percent expect their company's business outlook to get worse.