[caption id="attachment_11832" align="aligncenter" width="618"]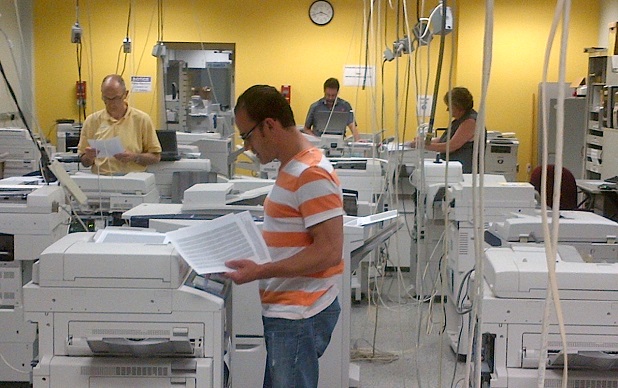 Xerox engineers testing patches on printers that change characters in documents they scan.[/caption] Xerox has begun releasing patches for a glitch that caused scanners in some of its multifunction printers to change characters in scanned documents. The glitch, discovered by German Ph.D. candidate David Kriesel and
confirmed by Xerox earlier this month,
caused some Xerox
WorkCentre
and ColorQube multifunction machines to replace individual characters on
"stress documents" that have small fonts, stray pixels or that are difficult for the scanner to read.
The issue was not a miscue in optical character recognition, Kriesel found. Instead, the machines actually replaced one character with another, changing sixes to eights in
the documents Kriesel tested.
"This is not an OCR problem," he wrote at the time. "It is a lot worse—patches of the pixel data are randomly replaced in a very subtle and dangerous way: the scanned images look correct at first glance even though the numbers may actually be incorrect." Xerox initially reported the
glitch could be fixed by changing scanning configurations,
but later discovered the problem was in the scanning software itself. The company warned customers that it would take several weeks to create a patch to repair the problem. Xerox announced the
"first wave" of patches Aug. 22,
with patches to repair models including the Xerox ConnectKey product line, WorkCentre 75xx, WorkCentre 57xx and ColorQube 93xx. A second wave of patches is due Aug. 26 to repair the rest of the affected models. The full list of machines containing the character-replacement glitch, according to Xerox, include:
Xerox ColorQube: 87XX, 89XX, 92XX, 93XX; Xerox WorkCentre: 5030, 5050, 51XX, 56XX, 57XX, 58XX, 6400, 7220, 7225, 75XX, 76XX, 77XX, 78XX; Xerox WorkCentrePro: 2XX; Xerox BookMark: 40, 55.
The patches are available for download
here.
Image: Xerox