[caption id="attachment_10378" align="aligncenter" width="618"]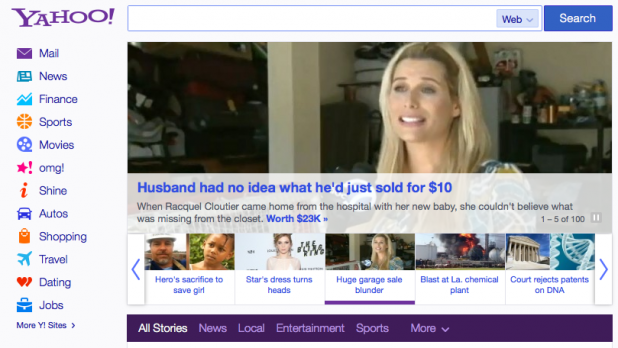 Yahoo's homepage: stuffed with services.[/caption] Yahoo CEO Marissa Mayer still has that checkbook out: over the past couple days, her company has followed up its
high-profile Tumblr buy
with the acquisitions of GhostBird Software and Rondee. GhostBird Software
builds mobile-photography apps for iOS
; it's not a stretch to presume that Yahoo will somehow integrate its assets into
the revamped Flickr platform
.
Rondee
offers conference-calling services for small and midsize companies; Yahoo will presumably include it in a business play of some sort. Long viewed as a moldering leftover of an earlier Internet era, Yahoo has enjoyed some recent buzz thanks to Mayer's aggressive acquire-and-revamp strategy. But such a strategy has its limits: a CEO can throw around billions of dollars in crisp bills, buy up all sorts of startups with momentum, hunt down all the engineering talent between Pune and Palo Alto, and give its core apps a fresh coat of digital paint—but that won't necessarily translate into increased users and revenues. Indeed, the scattershot nature of Mayer's acquisitions reinforces one of Yahoo's core problems: nobody seems quite sure how to define the company's core mission. Is it still the Web portal of yesteryear, adapted to the 21st century? Is it a search-and-services provider along the lines of archrival Google? Certainly the revolving door of CEOs (five "interim" and "permanent" ones since 2009) and bewildering mix of new and legacy products haven't helped Yahoo achieve any clarity in that regard. In November 2012, Mayer told an interviewer for
Fortune
that Yahoo would focus on creating a portfolio of strong products. "We've had a couple of really core, pillar products and then we have a lot of products that are smaller, that have occasionally been a hit, or been a hit in one market," she said,
according to The Verge
. "But I do think we really want to have a global suite of products that are truly excellent." Mobile would play a big part in her evolving strategy. Mayer didn't talk about how Yahoo's online products will stand out from those offered by Google, Microsoft, Facebook, and other IT giants. Maybe Yahoo's executives are hoping that all these new startups will, in aggregate, give those products the standout features necessary to effectively combat all those rivals. Or maybe the liberal use of Yahoo's massive checkbook is simply a way of keeping the buzz and momentum going until the company comes up with a holistic plan that totally changes the game on everybody. Whatever the underlying motives, Yahoo's buying spree hasn't yet sparked the broad-based revival it needs.
Image: Yahoo