Yahoo CEO Marissa Mayer has pared down the Internet pioneer's workforce by roughly 1,000 employees since she joined the company last July, she told Reuters.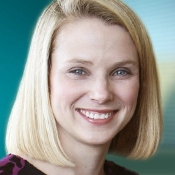 Those layoffs were on top of the approximately 2,000 cuts that her predecessor, Scott Thompson, announced about four months before Mayer's arrival. In total, Yahoo ended 2012 with 11,700 employees, down 17 percent from a year earlier. Yahoo has eliminated jobs through attrition and more aggressive performance management, she told Reuters. Among other things, employees are now reviewed quarterly instead of once a year. However, those layoffs don't mean the struggling company has stopped hiring. Yahoo is apparently going after talent in a big way, and Mayer says the company recently has been receiving up to 10,000 applications a week, more than twice the number from a year ago.
More than Just Layoffs
Mayer's been busy on personal matters, as well. During her tenure, she instituted a controversial ban on telecommuting and doubled maternity leave to 16 weeks. (Fathers didn't fare as well with the paternity leave, landing only eight weeks.) Mayer is herself a new mom: She gave birth to a son within a couple months of joining Yahoo. Other things keeping Mayer moving at a fast pace are a series of high-profile acquisitions, from the $1.1 billion acquisition of social media site Tumblr to its reported $30 million buyout of mobile news app Summly. But perhaps the most impressive of Mayer's moves has been her ability to push Yahoo's comatose stock upward by 54 percent to $24.07 a share on Monday. In comparison, the NASDAQ increased only 14.1 percent, to 3,320.76, since she took over. Mayer, a software engineer who rose up Google's ranks, had great success at that Internet giant, which at the time of her departure was under increasing pressure from Facebook, the arch-rival that wins advertising from Yahoo as well.