[caption id="attachment_9876" align="aligncenter" width="618"]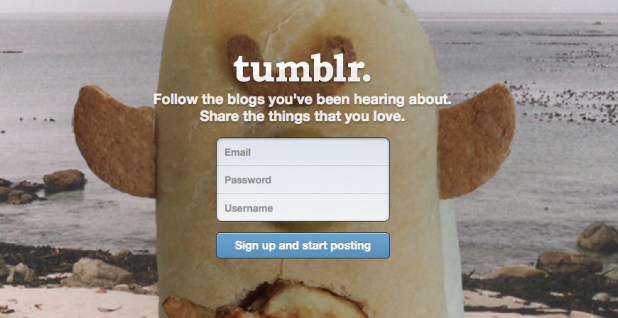 Is Tumblr the next GeoCities? Yahoo hopes not.[/caption] Yahoo has agreed to acquire Tumblr for $1.1 billion. Founded in February 2007,
Tumblr hosts 108.6 million blogs
, many of which emphasize images and .gifs over written content. While Tumblr does earn some money from advertising, its creators haven't tried to plaster it with ads in the same manner as, say, MySpace. "We're pretty opposed to advertising," Tumblr founder David Karp said in
a 2010 interview
with
The Los Angeles Times
. "It really turns our stomachs." But Yahoo is a major corporation with a need to monetize its assets in a way that makes its shareholders happy, leaving open the question of whether it'll alter Tumblr's DNA in order to make the latter more of a significant cash generator. At least for the moment, Yahoo seems content to leave its new property alone. "Per the agreement and our promise not to screw it up, Tumblr will be independently operated as a separate business," read Yahoo's press release. "The product, service and brand will continue to be defined and developed separately with the same Tumblr irreverence, wit, and commitment to empower creators." David Karp will remain as CEO. In a statement included with the press release, he wrote:
"Our team isn't changing. Our roadmap isn't changing. And our mission—to empower creators to make their best work and get it in front of the audience they deserve—certainly isn't changing. But we're elated to have the support of Yahoo! and their team who share our dream to make the Internet the ultimate creative canvas."
Yahoo plans on layering its "personalization and search infrastructure" into Tumblr, although the exact nature of that integration remains unclear; Tumblr blogs will also end up in Yahoo's broader media network. And yes, according to the press release, Yahoo and Tumblr will apparently collaborate on "seamless" advertising. The transaction is expected to close in the second half of 2013. Yahoo has a history of making high-profile acquisitions that subsequently implode. Back in 1999, it paid over $3 billion for GeoCities, another blogging network that it eventually shut down after years of failing to update the property. In 2005, it acquired popular photo-sharing Website Flickr, which it likewise allowed to languish and die. That same year it bought Delicious, a popular Webpage-bookmarking site, and did exactly nothing with it. So when Yahoo starts off its Tumblr press release with a promise not to screw things up, it's a self-deprecating nod toward all that history. New Yahoo CEO Marissa Mayer has been on a bit of a buying spree of late,
snatching up startups such as Summly
in an attempt to make her company "cool" and relevant. The Tumblr acquisition is obviously a big play in that direction—but it remains to be seen whether Yahoo can avoid wrecking it.
Image: Tumblr