[caption id="attachment_15709" align="aligncenter" width="618"]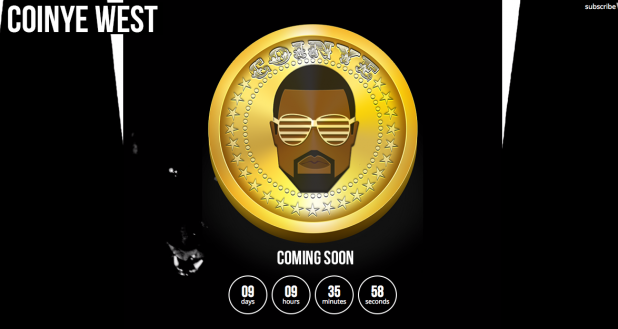 Someone out there is actually serious about making this happen.[/caption] In the future, every major celebrity will have a crypto-currency named after him or her. Bitcoin, the world's most popular crypto-currency, is based on an
open-source protocol
; and because it's peer-to-peer without a central server or bank, it's theoretically possible for anyone with the right combination of tools and knowhow to use the underlying code as the foundation for their own crypto-currency. Which is exactly what a bunch of anonymous developers have done with the new "Coinye West," an upcoming crypto-currency named after rapper Kanye
"I Am a God"
West. Coinye West isn't an official production of Kanye West, and the developers are staying anonymous because they probably fear the inevitable copyright lawsuits. (Of course, if the currency hits the online market and proves a success, it's always possible the real Kanye West would drop any suit in exchange for a massive amount of Coinye West coins—every hip-hop artist on the planet might claim to drive a Maybach, but how many can claim a currency?) "DROPPING JANUARY 11, 2014. 11 PM EST," read a note on
Coinyewest.com
. "No premine, no screwed up fake "fair" launches, shyster devs, muted channels, and f**ked up wallets," it helpfully added. "We will be releasing password protected, encrypted archives containing binaries and source for the wallet and daemon BEFORE LAUNCH, with the passwords to be released at the specified time." Just to emphasize the supposed fairness of this particular crypto-currency, the note repeated: "We will work with multiple pools to orchestrate a PROPER and FAIR release." A chat room is available at irc.freenode.net. Technical details for the crypto-currency include:
Algorithm: Scrypt Max Coins: 133,333,333,333 Block time: 90 seconds Difficulty Re-Target Time: 12 hours Block Rewards: 666,666 COYE Every 100k blocks, the payout halves
The recent spike in Bitcoin value has sparked a much broader discussion about the validity of crypto-currencies as a medium of exchange. First launched by the pseudonymous "Satoshi Nakamoto" in early 2009, Bitcoin is designed to never exceed 21 million Bitcoins (current supply stands at roughly 12 million), and the code ensures a consistent rate of currency generation. In December, Bank of America issued a
research report
suggesting that Bitcoin could become "a major means of payment for e-commerce" on its way to emerging as "a serious competitor to traditional money transfer providers." Even as Bank of America issued that report, however, the People's Bank of China
decided to declare it a volatile "currency" without real legal status
; that financial institution is also concerned about its use in money laundering and black markets. The opinions of major financial institutions aside, Bitcoin has become acceptable tender for growing roster of goods and services; and in a splashy attempt to exploit a trend Richard Branson recently announced that
Virgin Galactic will accept Bitcoin for rides into space
. And you know what that means: it's only a matter of time before Jay-Z decides to issue his own crypto-currency.
Image: Coinyewest.com