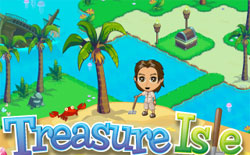 Social gaming is exploding, and nowhere is that the more evident than at Zynga, the company that practically defined social gaming with
Mafia Wars
and
Farmville
on Facebook. On Wall Street, rumors are rife that the company is
close to announcing
its initial public offering. It won't be a small thing, either. Some estimate that Zynga is
worth about $10 billion
. Zynga holds a dominant 39.1 percent market share in the social gaming space and earned an estimated $544 million in revenue in 2010,
according to IHS
. By comparison, the second highest leader in the space, Electronic Arts's Playfish, had a 6.5 percent market share. The company has big expansion plans this year, aiming to
double the size
of its 1,500- head staff by the end of December. About 500 people have been hired so far. The company is looking primarily for engineers, product developers and game designers. Also, the company moved into larger offices in its home base of San Francisco, and also opened an office in Seattle. Still, industry-wide competition for tech professionals has
been a brake
on Zynga's growth. Few candidates have the skills that Zynga needs, like PHP, Ruby and Pytho, CTO Cadir Lee told the New York Times. Other skills -- like working with large amounts of data and analytics -- can only be acquired at a few companies.