Nearly a dozen tech companies landed on the list of
Working Mother magazine's 100 Best Companies
. And some of the companies that provide the best environment and perks for working moms may come as a surprise, given the financial constraints and recent layoff notices these companies have announced. In selecting the top 100 companies, the magazine notes: "Family-friendly benefits and flexible cultures are the norm at the Working Mother 100 Best Companies. Translation: Parent employees get home in time for dinner, working moms get to the C-Suite and paid maternity leave is a given."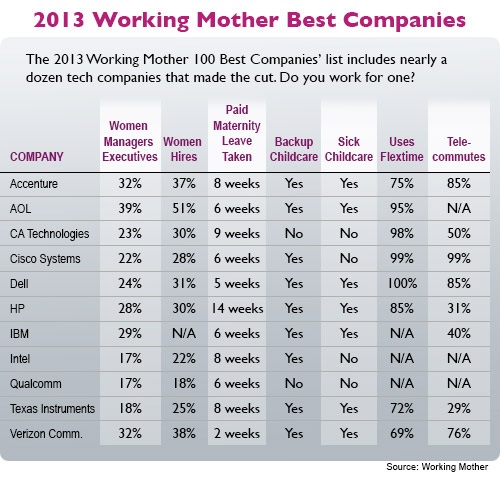 Cisco Systems
, which recently announced plans
to cut 4,000 employees from its workforce
, allows its workers to take up to 24 months off of unpaid leave without losing tenure, or for one year medical benefits. Nearly 100 percent of its employees have used a flextime schedule or telecommuting, with 45 percent of its U.S. employees working from home full-time last year. Additionally, Cisco gives employees access to $10,000 in annual tuition costs.
HP
is another technology titan that recently announced
massive layoffs
, but is by far the most generous tech company on Working Mother's list when it comes to paid maternity leave. The computer maker had an average of 14 weeks of paid maternity leave taken by employees, substantially more than the two to nine weeks taken at other tech companies on the list. And in April, the company began a new program for female executives that pairs them with top leaders for 18 months. As you may know, HP's CEO, Meg Whitman, is a woman who has served as the top leader at other companies as well, namely eBay.
AOL
, meanwhile, had the highest percentage of female managers and executives among the tech companies listed on Working Mother's list, and in some ways that may explain why it had the highest percentage of woman hires too. Interestingly as well, is that AOL was the only tech company also in the Top 25 of
Glassdoor's
list of the
best companies for work-life balance
released in July. More than 300 babies are born to AOL employees each year, so it's no wonder its Parents Group is a hit, complete with videoconferences and webinars on topics such as bullying, gifted children and more. Meanwhile, CA Technologies offers a Healthy Pregnancies, Healthy Babies program, plus subsidized onsite Montessori-certified child care, while Texas Instruments offers flextime, compressed workweeks and job-guaranteed career breaks. In addition to working on its Best Companies list,
Working Mother magazine is gathering signatures
on a petition to press Congress to mandate paid maternity leave by 2015, the 30
th
anniversary of its "Best Companies" list.