Looking around for a summer gig as an IT intern? Well, here are five top technology companies that made it onto
Glassdoor's 25 Highest Rated Companies Hiring Interns
list. In looking at the top five technology companies and perusing comments from their IT interns, we thought you'd be interested in getting a glimpse into the companies as seen through the eyes of these college students and recent grads.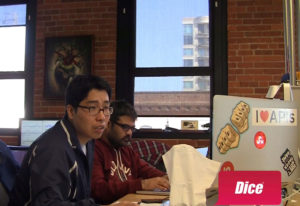 The social media giant ranked No. 1 on the list and was issued kudos for bestowing a culture of innovation and creativity and, more importantly, a sense of interns being valued by full-time employees. Case-in-point, one Facebook software engineering intern in Menlo Park, Calif., posted a review on Glassdoor that in part says, "The intern program is amazing and everyone is actually happy that the interns are there." That type of attitude can go a long way in bolstering the confidence of college students and recent grads, who may be getting their first taste of a professional working environment. As for the work environment, a Facebook software engineer intern in Seattle, Wash., says:
The company culture embraces independence, quick problem solving, strong communication skills. There is a strong work hard, play hard mentality.
Google
Right behind its arch-rival, Google ranked No. 2 among highly rated companies hiring interns. Beyond the rave reviews for excellent food, a climate where there's an excess of exciting things to learn was frequently mentioned among interns and, like Facebook, the ability to tackle meaningful work. A former software engineering intern at the Mountain View, Calif., office says:
You'll work with very talented and motivated people, lots of perks, state-of-the-art infrastructure. Having the opportunity to take a look at all the wonderful stuff they've developed and taking part in the creation of new tools and products is an amazing experience, especially if you're still in college.
That last comment is dead-on. When it's time to apply for jobs after graduation, real-life experience creating new tools and products can be a big help in getting your resume noticed. Hiring managers and recruiters often note that being able to point to your specific role in a project and its impact goes a long way in making your resume standout, even if the work was done during an internship. Google's commenters also praised the company's career path for interns. A former software engineering intern in New York says:
As an intern, career opportunities in the sense of converting to full time is a much smoother process than applying for full time without coming from an internship. Still the process is selective but considerably nicer.
Qualcomm
A supportive environment with approachable people, who are particularly intelligent, was commonly cited by IT interns who did a stint at chip company Qualcomm, which ranked No. 3 on the Glassdoor list. A great work-life balance was also observed by many interns, as well. One former engineering intern at the San Diego-based company says:
Good work life balance, competitive pay, San Diego is beautiful, brilliant coworkers, housing and relocation was completely covered, R&D projects are very good, stable job outlook, HR (Campus Team) is by far the best of any company I've ever dealt with, great mentorship, executive speaker series, and they even held an intern hackathon.
Epic Systems
While Epic Systems is not a household name, this privately held healthcare software company, based in Wisconsin, received enough high marks to place it No. 5 on the Glassdoor list. And among tech companies, it was No. 4. Office space was surprisingly one of the frequent benefits mentioned by interns. Some apparently are lucky enough to land their own office. Others gushed over the "amazingly well decorated" campus. Most of the IT interns praised the company for its "relaxed" atmosphere and some noted the company goes the extra mile to make sure the interns receive a useful experience. One former software development intern says:
The company culture is pretty welcoming and positive. Job roles are mixed together in the same buildings, so it's a pleasant work environment. You get your own project for the summer and get the experience of taking it from pretty much the beginning to pretty much the end.
Another former software development intern noted that the company is migrating toward using modern technologies, and cited the cost of living in Wisconsin and the pay offered as added bonuses.
Epic is migrating to using modern technologies, such as C#, ASP.NET, JavaScript, and developing for modern platforms, such as Android and iOS. For the cost of living in the Midwest, the salary is amazing. Just look at the cars in the parking lot. Working here for 5 years will guarantee you upper-middle class in the Midwest. I worked here as an intern for a summer and loved it. In many ways, it is similar to Microsoft and Google, just smaller. Think of it as the Microsoft of the Prairie States.
Intel
While some internships in corporate America are nothing more than busy work, Intel's IT interns did not find that the case. In fact, they frequently touted the exciting work they were doing at the chip behemoth and the guidance received from the senior managers. Intel ranked No. 6 on the Glassdoor list, but No. 5 among tech companies. One current logic design intern at its Folsom, Calif., office says:
Good guidance from seniors in ur team. They gave u important tasks as well. so u will have a good opportunity to contribute to ur team.
A former technical intern at its Santa Clara, Calif., office says:
Useful and interesting project, no busywork, structured, relaxed.
Although Intel received high marks from interns, the company is undergoing a round of
job cuts
and morale among its workforce may be less optimal than other times at the company. However, that too can prove a useful learning experience for college students and recent college grads about the "real world."