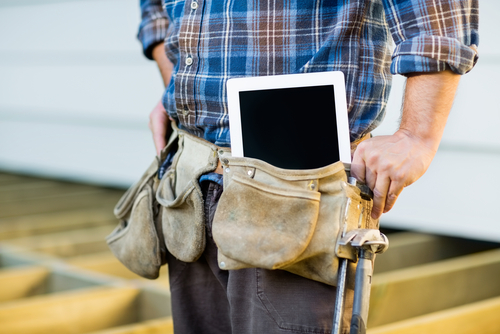 Even traditionally low-tech industries are embracing mobile applications. As Todd Brown, senior applications development manager at
UPS
, puts it: "any industry with a workforce that doesn't sit at a desk." That's creating opportunities for
app developers
. But as with any product, deep knowledge of the business and its workflow processes is vital to making your app succeed.
Click here to find mobile development jobs.
Think beyond the confines of consumer or traditional enterprise development for some new opportunities. Here's a few ideas to get you started:
Commercial Fishing
Anyone who's watched
Deadliest Catch
knows fishing vessels often carry a lot of technology. But overall, tech hasn't caught up with the industry, according to Jenny Walsh, product development director for Oregon-based Point97, the ocean-management spinoff of the conservation organization Ecotrust. So far, custom app development has predominated among large fleets. However, there's a huge information gap between what's being caught and organizations trying to manage ocean resources, Walsh says. Among Point97's apps is Digital Deck, which allows operators to log what they catch, as well as how and where it's caught. Available for smartphones, tablets and desktops, it helps give fisheries' managers more timely and accurate information for analysis based on daily reports. "Once a day certainly beats every 30 days," Walsh notes. The app also allows operators to visually track their catch over time.
Fire and Rescue
IT opportunities at fire departments will only increase, says Jennifer Schottke, fire/EMS and public safety policy specialist at Esri, a vendor of geographic information systems (GIS) mapping software. Fire mobile apps tend to follow two veins: data collection during home and building inspections or apps that push information out to fire crews as they battle a blaze. To take one example, the city of
Troy, Mich., has created an app
for crews en route to a fire that maps streets, hydrants and critical facilities, and provides information such as fire pre-plans, building flow plans and alarm reset procedures. Many municipalities have made huge investments in GIS, whether their systems are located in tax assessment, public works or other departments. The trick is integrating the different types of data collected, such as property ownership, utilities and where chemicals are stored. Esri offers "foundational apps," including Collector and ArcGIS, that allow developers to build GIS capabilities using an organization's data.
Logistics
United Parcel Service is preparing to update DIAD V, its fifth-generation hand-held "Delivery Information Acquisition Device." A rollout date for the new version hasn't been determined, according to the company's Todd Brown. Nearly 100,000 drivers use the device, unveiled in 2012. Small-package delivery makes up the bulk of use, though operators of UPS's long-distance trucks and air fleet employ it as well. Those three areas of the business use an array of applications, written in
C#
,
C++
and
C
, that are specific to particular jobs, Brown says. The apps primarily deal with pickup and delivery information, but there's also a decision-support system to help drivers determine whether it's better to leave a package when the recipient isn't home or take it back. A workflow manifest walks drivers through their entire day to attain the greatest efficiency. UPS has 20 to 25 people working directly on DIAD applications, with a like number involved with related technologies. In addition, nearly 5 million customers have downloaded a mobile application that allows them to manage and track their shipments.
Construction
"Construction in general has been lagging in IT investment for quite some time," says Alex Bakman, founder of Snapii, a site that allows business users to create their own mobile apps. Companies in the industry are looking for functions involving daily reporting, estimating, audits and inspections. They're especially interested in apps that work offline. For example, Dexter + Chaney, providers of SpectrumConstruction Software, recently demonstrated mobile apps that access and share the latest versions of plans and other documents, and track workers' hours, equipment, maintenance and fuel consumption.
Transportation
Apps that track shipments, provide bills of lading and especially instant invoicing are extremely popular, Bakman says.
Go By Truck's freight-management app allows shippers, carriers and drivers to do business without relying on a broker. They can negotiate transactions based on the spot market with real-time pricing.
The cloud-based Web app comfreight.com allows shippers to solicit freight quotes and carriers to bid on projects.
PeopleNet offers in-cab or mobile communication systems to help carriers with route management, fuel efficiency, safety and compliance.
BNSF Railway operates a mobile site and applications to help customers manage their rail shipments.
Oil & Gas
Oil companies are looking to mobile apps to help with safety activities, data collection and monitoring, Bakman says. The oil industry
is expected to spend $8 billion on mobile apps
by 2015, according to enterprise app vendor ChaiONE. In a recent survey, the company found that industry CIOs named mobile apps their No. 2 priority, though just 16 percent have a mobility strategy. Only one third of the top 50 petroleum enterprises have deployed mobile apps. Oilfield service provider Halliburton offers apps including eRedBook Software, a toolkit of engineering calculations; InSite Mobile Service, a collaboration tool; and RapidSuite ETB Mobile, which focuses on calculations for horizontal drilling. Meanwhile, analyst firm Berg Insight reports a
booming market in development of wireless M2M monitoring capabilities
in the sector. And finally:
Snowplows
The Federal Highway Administration is looking to equip snowplows with a "low-cost, high-accuracy visual guidance system" that includes GPS, virtual reality and sensors. It's published plans for a competition employing these technologies, as well as a heads-up display system like the one military pilots use.
Related Stories
Image: Tyler Olson/Shutterstock.com