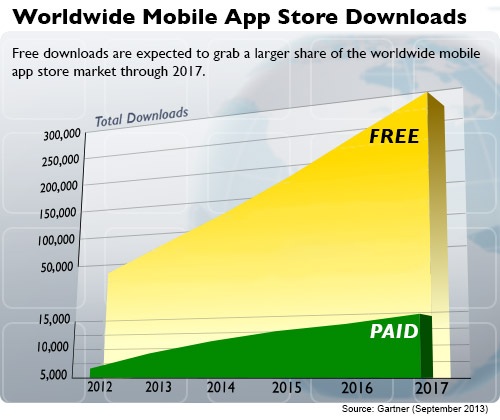 First-mover advantage is going to play a big role for mobile app developers in the coming years, as these developers look to build their career and companies around the swelling volume of downloads coming out of mobile app stores. According to a
Gartner
research report released in the past week, the number of annual downloads from mobile app stores is expected to reach 268.7 billion by 2017, more than four times the level of last year. And of those downloads, free apps will account for 94.5 percent in 2017, up from last year's 89.6 percent. Mobile app developers creating these freebies will be glad to know that in-app purchases are expected to rise to 48 percent of app store revenue by 2017, up from 11 percent last year.
Give Me Some of That
Mobile app developers who are first with an appealing new productivity app, game app or some other type of app, stand a better chance of grabbing customers with their first-mover advantage. "We expect strong growth in downloads through 2014, but growth is forecast to slow down a bit in later years," said Sandy Shen, Research Director at Gartner, in a statement. "The average downloads per device should be high in early years as users get new devices and discover the apps they like. Over time, they accumulate a portfolio of apps they like and stick to, so there will be moderate numbers of downloads in the later years." The average number of downloads per iPhone, iPad and iPod are expected to fall to 3.9 per month in 2017 from 4.9 a month this year, says Gartner. Android is expected to fare only slightly better, with average monthly downloads dropping to 5.8 in 2017 from 6.2 this year. As a result of this projected decline, mobile app developers who are aware of the importance of a first-mover advantage will be even more attractive to prospective employers, who are already clamoring for such developers.