When it comes to enhancing skills, the most often-asked question is about certifications: Are they worth the time and money? Do they really help you get that new job, or do hiring managers just shrug them off?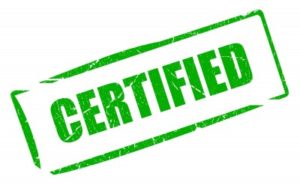 Once upon a time, the right certification was a ticket to job security, but more recently the tech industry has reshaped its attitude. While some employers still require them, a growing number are giving more weight to experience. Some certifications are still in vogue.
Cisco's
remains highly desirable. The Project Management Institute's PMP -- which requires three years of experience, 4,500 hours leading and directing projects and 35 hours of project management education -- also commands respect. So what about you? To help you decide if you need a certification, we talked to several people in a position to know how tech executives feel, because they're tech executives themselves. One person who values certifications is Brad Hobgood, IT director at Orion International in Cary, N.C., who says they're one of the first things he looks for when he's hiring an IT professional. They tell him something about the candidate's determination and character, he says. "It's a good indicator in the sense that you know this person is motivated, willing to go the extra mile to show they're capable and can go to the next level of knowledge." On the other hand Mark Herschberg, chief technical officer of Madison Logic, a New York City-based data firm, has a much different perspective. "The paper knowledge is useful but experience is critical," he believes. "Paper is not going to help you estimate well. The first thing I look for is intelligence. The second thing I look for are people who communicate well. Software is a communication issue. "
A Professional's View
Before graduating from college, Jessica Williams, a network engineer with Chicago-based systems integrator SDL, became a Cisco Certified Network Associate. "I wanted them to see I was serious," she says. "It proved my commitment." And, she says, the certification has proved helpful. Indeed, since then Williams has acquired six Cisco certifications. She knew her employer would be carrying out significant projects that used Cisco products and gear. Also, one of her company's clients actually required CCNA certifications as a condition of its contract. Some companies aren't so stringent. Steve Stewart, technology practice leader for search firm Charles Aris, Inc. in Greensboro, N.C., says that even when he recruited entry level and mid-level IT workers, he's never had employers ask for certifications. "Ninety percent of them aren't worth their salt," he says, adding that a lot of organizations that offer certificates are boot camps. "They bring you in for just one week and drench you, barrage you. There are a lot of paper developers out there." So, obviously there's no consensus. But one indicator of how much a company values certifications may lie in its size. Demand for certificates is more likely to come from human resource departments at larger companies, while startups are less likely to require them, observes Winter Wyman's senior staffing manager Avik Patel, whose specialties include recruiting software engineers. "Hiring managers value experience over certifications," Patel says. "The way I look at it, work experience should validate certifications and not the other way around." He adds that when hiring managers do ask about certifications, they are more likely to ask about niche certifications. (One of the most sought after, he says, is the Cisco Certified Internetwork Expert, or CCIE.)
The trouble with a lot of certifications, say many hiring managers, is that much of the material is dated within a few months of course completion. If you're not careful, you can find yourself having paid for information that's no longer useful. The industry changes so rapidly that many of the vendors who set up the programs and sell the certificates aren't keeping current with developing technology. If you decide to go for a certificate, vet the educating organization carefully and weigh the cost-effectiveness and employment value of that extra piece of paper. Then, as the old saying goes, you pays your money and you takes your chances.