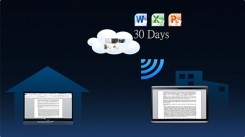 Just barely two months after Apple announced its iCloud service last year, Taiwan-based consumer electronics company Acer acquired a cloud computing firm, iGware, for $320 million. It seems that the acquisition has finally borne fruit. Acer has finally
shown what's under its sleeves
. In short: an iCloud clone called the AcerCloud. Yes, it's almost impossible to be 100 percent original in the computing industry. Steve Jobs accused Microsoft of copying Apple's GUI in Windows back in the early computing era. Decades later, the Apple co-founder would outright call Android a stolen product. Apple's own iOS 5, on the other hand, was said to be taking cues from Android on many grounds — notification system, wireless sync, tabbed browsing in Safari, split keyboard, and launching an app directly from the lock screen. The new iMessage, which allows iOS users to send messages to each other for free, was also said to be copying Research In Motion's BlackBerry Messenger. Most, if not all, consumer electronics companies are unoriginal at some point of their existence. But efforts were made to distinguish their offerings, even if they're very similar fundamentally. Not in Acer.
How It Works
AcerCloud basically has three components: PicStream, AcerCloud Docs, and clear.fi Media. PicStream is an exact clone of iCloud's PhotoStream. Photos captured with an AcerCloud-enabled smartphone will be uploaded to the cloud automatically and will be made available on other devices, a PC for example, in no time, eliminating the need to copy photos between devices manually. Photos will be stored in the cloud for 30 days. AcerCloud Docs keeps documents updated across all devices seamlessly, so that you'd have the latest version no matter which device you're using. Like PicStream, documents will be stored in the cloud for only 30 days. It's similar to iCloud's Documents in the Cloud, except iCloud doesn't put a duration restriction for documents. clear.fi Media is a cloud locker for your multimedia. Media files can be streamed from your personal cloud to different devices, or even downloaded for offline consumption.
Blatant, Shameless Copying
As mentioned earlier, companies in the computing industry DO copy each other. But Acer's attempt is ridiculously shameless. Copying an idea is one thing, and copying a name is another. Acer chose to do it the easy way by substituting "Photo" in PhotoStream with "Pic." PicStream it is. Same idea? Fine. Similar name? Fine, too, I guess. Copying Apple's slide to introduce AcerCloud? Stay classy, Acer. Courtesy of
TheVerge
:
[caption id="attachment_33505" align="aligncenter" width="560"]
Top: AcerCloud PicStream, Bottom: iCloud Photo Stream[/caption]
Availability
AcerCloud will be available on all Acer consumer PCs starting Q2 2012, for free. It'll support all Android devices, presumably even non-Acer Android devices, with support for Windows devices planned.