[caption id="attachment_10235" align="aligncenter" width="534"]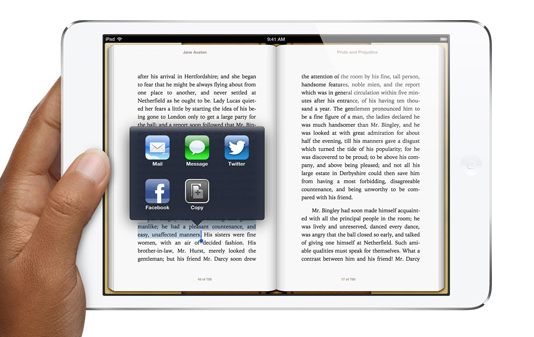 Apple's iBooks.[/caption] Strengthened by an agreement with Apple that set the prices for their respective e-books higher, publishers strong-armed Amazon into giving them similar terms, an executive for the online retailer testified in Manhattan federal court June 5. The U.S. Department of Justice has taken Apple to court over the alleged price-fixing, after reaching out-of-court settlements with five publishers (HarperCollins Publishers LLC, Simon & Schuster, Hachette Book Group, Penguin Group, and MacMillian). Apple, which competes with Amazon in the e-book space, refused a similar settlement. "Certainly if someone offered reseller, we would have taken them up on that offer," Russell Grandinetti, Amazon's vice president for Kindle content, testified before the court. "Reseller" means a company sells goods to a retailer for a particular price (usually wholesale), allowing the retailer to set the actual sales price. Under the terms of that model, Amazon could sell e-books for super-cheap, even if it meant going beneath the publisher's wholesale price.
According to Reuters
, which is covering the trial, Grandinetti sat down with Macmillan CEO Jon Sargent, who offered a stark choice: a months-long delay between the hardcover debut of a book and its appearance on Kindle, or convert from the reseller to agency model, in which publishers have a heavier hand in setting retail pricing. "I think I expressed how unpalatable the choice presented was," the newswire quotes Grandinetti as telling the court. Macmillan and Amazon ended up in conflict over the issue, with Amazon temporarily yanking the publisher's e-books from its digital shelves. "We will have to capitulate and accept Macmillan's terms because Macmillan has a monopoly over their own titles, and we will want to offer them to you even at prices we believe are needlessly high for e-books," Amazon wrote in a statement at the time. "Amazon customers will at that point decide for themselves whether they believe it's reasonable to pay $14.99 for a bestselling e-book." Even so, Amazon eventually relented to Macmillan's demands, along with those of other publishers. Last week, emails emerged in which Apple co-founder Steve Jobs insisted in
emails to News Corp executive James Murdoch
(son of Rupert Murdoch), that Amazon's pricing was ultimately unsustainable. But the online retailer shows no signs of flagging with regard to its publishing-industry clout. However Apple's federal trial ends, it's unlikely that the actual contours of the e-book market will change anytime soon.
Image: Apple