[caption id="attachment_5620" align="aligncenter" width="600"]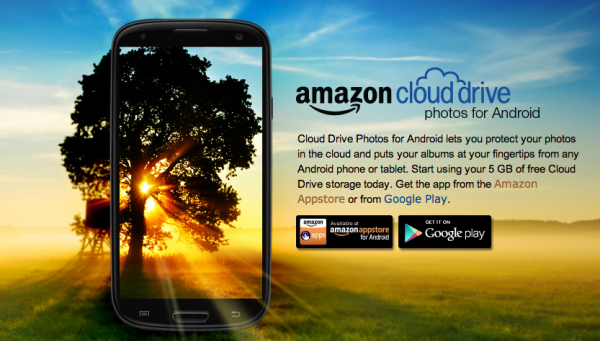 Amazon's Cloud Services are battling those of Google, Microsoft, and Apple.[/caption] Amazon has introduced a free app,
Cloud Photos for Android
, with 5GB of free storage; users have the ability to upload individual photos or whole albums from either an Android smartphone or tablet. Additional storage starts at $10 per year for 20GB. Other app features include the ability to share images on Cloud Drive via Facebook and email. Amazon has integrated the app into the Kindle Fire HD, which is competing for holiday-shopping dollars against Apple's iPad and a variety of Android tablets. While much of the tech world's attention focuses on mobile hardware and its success (or failure) in the open marketplace, the growing cloud-software battle is no less important to the overall fortunes of Google, Amazon, Apple, Microsoft and other giants. Google also offers a variety of cloud apps for consumers and businesses, including Google Drive and Google Music; Apple has its iCloud; and Microsoft is pushing into the space with a revamped SkyDrive.
A recent study by research firm IHS
estimated that some 375 million consumers around the world use cloud services, a full 75 percent of the 500 million it expects by the end of 2012. "While no firm numbers exist to show the extend of the cloud in 2011 because it was relatively new and untested," read the note accompanying the data, "best estimates put global subscribers then at approximately 150 million." (The firm defined cloud services as platforms for managing and storing either user-generated or purchased content, accessible through a variety of hardware including PCs and mobile devices.) The presence Apple, Google and other tech titans in the cloud arena is pressuring "pure-play cloud storage" vendors such as Dropbox, IHS added, driving the latter to adopt a "freemium model" in which some portion of service is free and charges apply for added features: "The cloud industry will continue to lose money from pure cloud offerings, HIS believes, and independent providers will find it extremely difficult to remain financially viable." But for companies like Amazon and Apple, the cloud can potentially mean big profits—or at least customer lock-in.
Image: Amazon