Amazon's
IT recruitment efforts in 2013 dramatically outpaced those of all of its competitors, according to a report published on the industry website
Retail Information Systems News
. During the year, the company posted about 17,000 tech jobs, more than 57 percent of all postings among the top 10. That's a lot of postings, and we should note the report didn't provide a definition for what jobs it considers "tech" or how it counted the ads.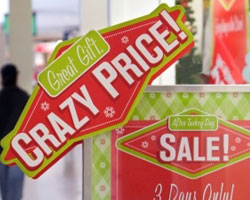 Still, the number is an indicator of Amazon's exceptional push. "The online giant is on the forefront of technology advancements, necessitating a large and constantly growing IT investment," RIS News notes. "With the retailer's announcement that it plans to deliver packages by unmanned drone in the near future and its recent patent on anticipatory delivery the e-tailer has plenty of R&D development on its plate."
Click here for jobs related to retail IT.
The report, compiled by the labor market analytics firm Burning Glass, varied slightly from one from CompTIA,
which put Amazon's IT job ads
at slightly more than 16,000. CompTIA's numbers put Best Buy's postings at 10,725, while RIS noted that Best Buy would have been No. 2, except its Geek Squad unit was counted separately – which knocked it out of the top 10. The full list: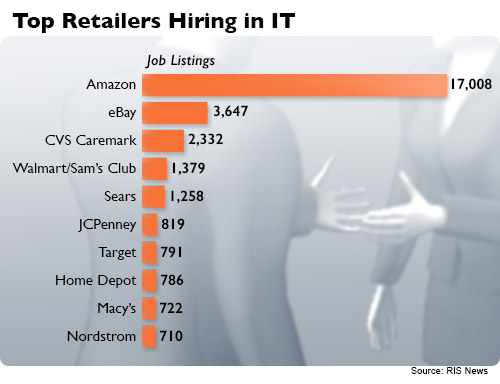 "If you're not familiar with it, you probably don't realize how technologically advanced retail is," Jerry Sheldon, retail analyst with IHL Consulting Group, told Dice. He pointed to
eBay
,
Macy's
and
Walmart
as being among
retail's most innovative companies
. Amazon has been hiring hundreds of engineers in Herndon, Va., after winning a $600 million contract to build a
secure, super-secret cloud platform
for the Central Intelligence Agency. It's also been
building up a development hub in Vancouver, B.C
. Walmart, meanwhile has been
tying together
its mobile and in-store shopping experiences through Scan & Go and other technologies, as well as building out its analytics capabilities. "No one has bigger data than Walmart," Michael Cox, vice president of HR and talent acquisition, maintained when he spoke with Dice. Other retailers are also focused on the "omnichannel" strategy to provide an "anytime, anywhere" shopping experience. Increasingly, technology is the differentiator among brands in retail, says research firm
Gartner
, with the power to "either recreate businesses or level them." It noted that "retail tech investments are made in the millions of dollars with a capital M. Amazon's tech investments are made in the billions of dollars with a capital B."
Related Links