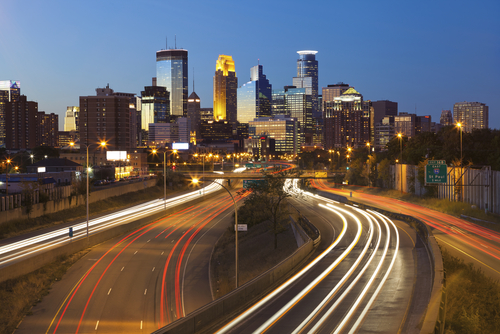 Can you make a city smarter? Despite the hype attached to so-called "Big Data," many cities haven't yet rushed to embrace the idea of analyzing massive data sets to holistically improve city services. But change on that front could be underway, with Minneapolis, Minn., and Montpellier, France, working with
IBM
on analytics platforms capable of boosting efficiencies in transportation, water management and emergency services.
Click here to find analytics jobs.
Minneapolis is using cloud-based pattern discovery to better track metrics such as traffic and water usage. It's a similar situation in Montpellier, where IBM is also working with two local universities to create data-focused startups and build new economic models (Big Blue claims that its work in the French city has resulted in water-yield improvements, along with a noticeable reduction in traffic congestion). Both cities are also using IBM software to improve emergency management, by layering in geospatial intelligence and analytics to better route data from multiple sources to emergency responders. Even as IBM repositions itself as a cloud-and-analytics firm, with an emphasis on consulting, it faces competition on a number of fronts.
Cisco
recently announced
a $150 million investment
in startups and early-stage companies that focus on the Internet of Things, "Big Data" and other next-generation topics. As manufacturers produce an
increasing number of Internet-enabled devices
, startups and established companies alike will produce more software capable of taking data from those devices and analyzing it in ways that prove useful to consumers and businesses. And if that wasn't challenging enough for IBM, other tech firms—most notably
Apple
, Google, and
Microsoft
—have displayed an increased interest in artificial intelligence, one of the areas where IBM has pinned much of its hopes. Municipalities could represent a prime target for all those companies' analytics products; the big question is whether those products can offer only incremental gains, or if data-crunching is capable of tackling some of the major issues confronting many cities over the next several years.
Related Stories
Image: Rudy Balasko/Shutterstock.com