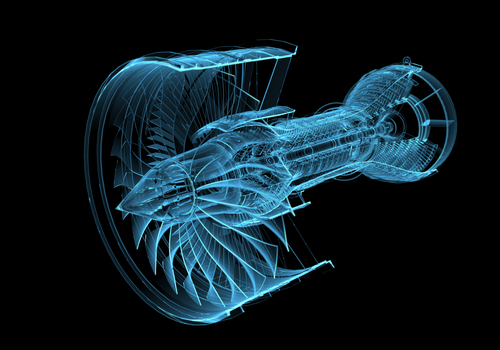 General Electric is pitching the "Industrial Internet," which combines the latest in analytics tools and data-gathering sensors with old-school manufacturing.
In a Nov. 26 report
, GE outlined the three components central to the concept. The first is "Intelligent Machines," which involves seeding fleets of machines with sensors and advanced software. The second is "Advanced Analytics," which takes the data from those machines and systems and filters it through everything from physics-based analytics to predictive analytics. The third is what GE terms "People at Work," which integrates people more tightly with these new, highly analytic industries. "The next holy grail is about decision support and analytics," GE CEO Jeffrey Immelt told the audience at his company's
Minds + Machines 2012
conference, as quoted by
The Wall Street Journal
. For companies, the benefits of drawing more analytical data from industrial processes and machines is fairly obvious: the right data filtered in the right way through the right tools means more piercing insight into what's working within an organization, allowing workers and executives to make beneficial changes. GE believes that, by 2025, the "Industrial Internet" concept could apply to roughly half the global economy—a cool $82 trillion. But for GE, the benefits are equally massive. The aviation industry, by its own reckoning, features 20,000 commercial aircraft loaded with 43,000 jet engines, each of which in turn contain lots and lots of moving parts. The healthcare, rail, oil and gas, and power industries also boast systems with similar degrees of complexity. Convincing those companies to sign up for appropriately massive backend systems with lots of sensors, hardware and training could translate into a hefty bump of revenue. GE's intentions in this direction haven't exactly been a closely held secret. During a session at the Dreamforce '12 conference in San Francisco in September, Immelt suggested that social networking and connectivity could accelerate the pace of business and allow executives to make better strategic decisions. Immelt and Salesforce CEO Marc Benioff—whose company hosts Dreamforce—had talked at length in the preceeding months about using technology to not only collaborate with coworkers and customers, but also any products under development. "If we can change the way that our engines operate by getting real time data, that's huge," Immelt told the Dreamforce, referring to devices' potential ability to send updates to employees and engineers. Of course, large companies such as airlines can afford the massive retrofitting, employee training, and other expenses that come with upgrading to something like the "Industrial Internet." Smaller firms, however, may be forced to pick and choose their analytics tools in order to get ahead.
Image: Saulius L/Shutterstock.com