Claiming 2.1 million subscribers, Provo, Utah-based Ancestry.com bills itself as the world's largest family history resource. It began as Ancestry Publishing in 1983, producing genealogical books and magazine titles. Today, its properties include MyFamily.com, family-tree generator Mundia.com, Newspapers.com, AncestryDNA and Archives.com.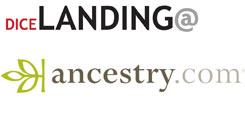 Ancestry.com has more than 1,300 employees. Although the majority work in Provo, the company also has offices in San Francisco, Sydney, London, Dublin, Munich and Stockholm. Revenues have jumped significantly over the last five years, from $166 million in 2007 to $487 million in 2012, spurred by a growing interest in genealogy. Nearly two in three Americans want to learn about the history of their ancestors before they immigrated to the U.S., and over half are interested in taking a genealogical test, says Suzy Jessen, the company's director of global talent. And Ancestry.com expects that interest to continue. As part of its expansion plans, it's hired 50 IT professionals so far this year, and intends to hire at least 50 more by 2014.
How to Read a Job Posting
Review each posting closely to make sure your qualifications match its required skills. When responding, be sure your resume highlights your appropriate roles and experience. Jessen describes Ancestry as a fast-paced organization that values employees who are adaptable, can think independently and critically, work well with others, work hard, have a desire to keep learning and possess a "go-getter" attitude. It's important to highlight such traits in your application package, she says.
Making Your Approach
The company posts all of its jobs on its own websites and other outlets, such as niche job boards. It also recruits technology talent at colleges. But nothing helps your application float to the top like knowing someone within the organization. "We're always looking at referrals," Jessen says. "If someone internally can vouch for you, it will give you much more of an edge."
Advice for Seasoned Professionals
Jessen advises experienced professionals to network extensively with Ancestry officials, particularly on social networking sites. Many of the company's managers and recruiters are active on social networking sites like LinkedIn, and their profiles can easily be found there, she says. She also encourages job seekers to keep their social media profiles up to date. Mining social media sites, she says, are a big part of the recruiters' approach.
Advice for Recent Graduates
Each year, Ancestry visits several university campuses to recruit young talent. The company also posts jobs on university career sites, and has internship programs in areas where it maintains offices. Throughout the year, the company hires about 30 interns. Jessen encourages college students nearing graduation to check out intership opportunities, which can provide invaluable experience as well as a chance at full-time employment upon completion. "If they prove themselves, we provide them an opportunity to move into an associate software engineer role," Jessen says.