Is the Android ecosystem becoming less fragmented?
For years, Google has wrestled with fragmentation: too many phones by too many manufacturers running outdated versions of Android. That lack of coordination among carriers and manufacturers led to frustration on the part of many users—there's nothing more annoying than realizing your shiny phone is never going to run an app designed for the latest version.
Back in 2017, Google proposed "Project Treble," which was supposed to de-fragment the ecosystem by letting carriers and manufacturers update phones to the latest version without having to rework their apps or services (their bloatware, in many cases). In theory, that was going to streamline those partners' ability to update the phones in a timely manner.
Now, new data shows that Project Treble might actually be working—albeit at a somewhat slow pace. "One of the earliest indications that Project Treble was having a positive effect was our ability to run the Beta program for Android 9 Pie on many more devices from more manufacturers," reads a new posting on the Android developer blog. "With Android 10, this year, we increased the number of devices to 18 (again, in addition to Pixels), representing 12 OEMs. This represents a significant increase over the previous year and shows that Project Treble is having an impact."
Just take a look at this fancy Google graph: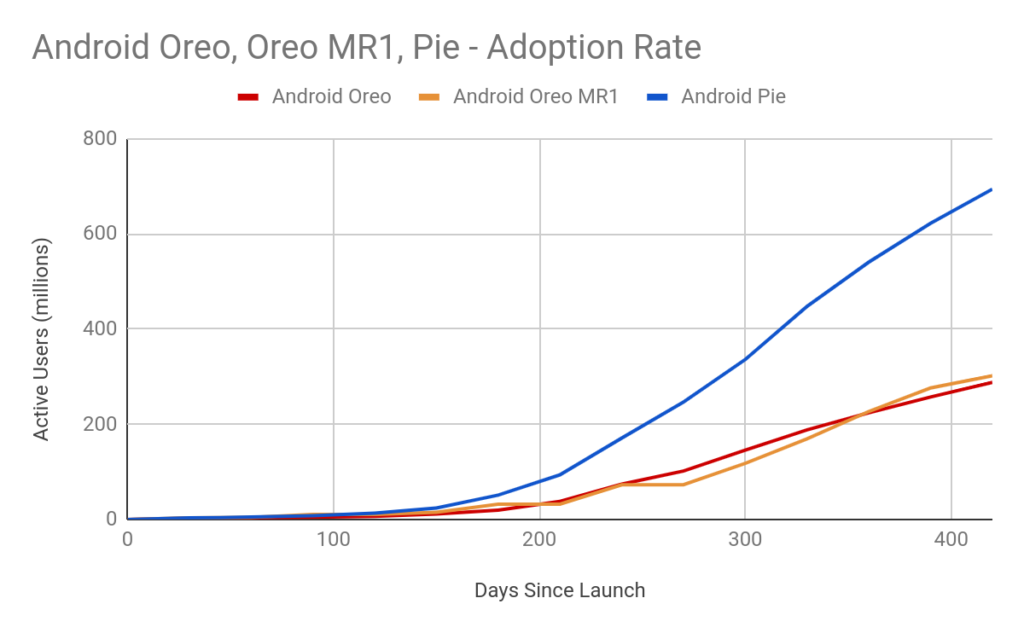 Right before Android 9 launched in 2018, its predecessor, Android 8, ran on 8.9 percent of phones in the operating system's ecosystem. Before Android 10 launched in August of this year, Android 9 was running on 22.6 percent of phones. To Google, that rising number of phones running the most recent version of the OS is mathematical proof that Project Treble is working.
Right now, Android 9 holds 10.4 percent of the overall Android market, according to Google.
If Google is indeed reversing years of fragmentation, that's pretty astounding. Quick, someone peek out a window and see if pigs are flying around.
More Anti-Fragmentation: Project Mainline
There's also Project Mainline, which allows Google to channel security and compatibility updates via the Play Store, which is shared across all phones. "Project Mainline is to the core of the Android OS what Project Treble is to its foundation," the blog added. "It is a dramatic improvement in the velocity of updates of the OS components that fall under its umbrella."
But Google will continue to rely on manufacturing partners for the bulk of Android phones, which means that fragmentation will likely present a significant issue for quite some time. For developers, though, initiatives like Project Treble and Project Mainline are only a good thing: the more users running the latest version of the OS, the better their apps will run (and the bigger an audience for the latest apps).
Editor's Note: In two instances of a previous version of this article, we accidentally referred to "Project Treble" as "Project Tremble." We're sorry. We're so, so sorry.