The latest version of the
Android OS
has gained market-share over the past few months, according to
the latest data from Google
.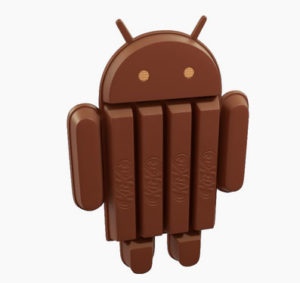 Android 4.4 ("KitKat") now runs on 5.3 percent of Android devices,
up from 1.4 percent earlier this year
. KitKat features tight integration with Google Now, Google's voice-activated digital assistant; thanks to Google's attempt to minimize resource-hungry processes, the operating system can also run on low-end hardware, opening up broad swaths of the mobile-device market to its use.
Click here to find Android developer jobs.
But KitKat's also a long way from dominating the Android ecosystem. Google suggests that 75.7 percent of Android smartphones run either the "Ice Cream Sandwich" (versions 4.0.3 through 4.0.4) or "Jelly Bean" (versions 4.1x, 4.2x, 4.3) builds; another 17.8 percent of Android devices still feature the aged "Gingerbread" (versions 2.3.3 through 2.3.7).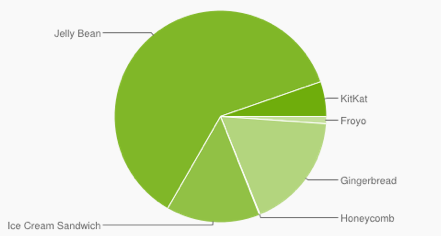 Google draws its data from devices running the Google Play app, which connects directly to the company's apps-and-media hub. In addition to reporting Android versions, the company also offers some insight into the most popular screen-sizes—and despite the hype surrounding "phablets" and plus-sized screens, "normal" screens hold a hefty 79.2 percent of the Android market, in contrast to "large" screens with 7.8 percent and "extra large" with 4.9 percent. Around 89.4 percent of devices support version 2.0 of
OpenGL ES
, down slightly from earlier this year; meanwhile, version 3.0 gained a few points, to 10.5 percent. OpenGL ES, a subset of the
OpenGL
CG-rendering API for embedded systems (and mobile devices such as
tablets and smartphones
), is an important benchmark for
app developers
. What do these latest stats mean for your average developer? First, normal screens still rule; adjust your visuals accordingly. Second, given KitKat's uptake, it's probably worth updating older Android apps to take advantage of the latest operating system's tools and tricks, which include support for NFC-based transactions (through Host Card Emulation), printing and storage-access frameworks, a full-screen immersive mode, and a transitions framework for animating scenes. (A full list of those capabilities is available on
Google's Android Developer website
.)
Related Stories
Images: Google