[caption id="attachment_142293" align="aligncenter" width="2400"]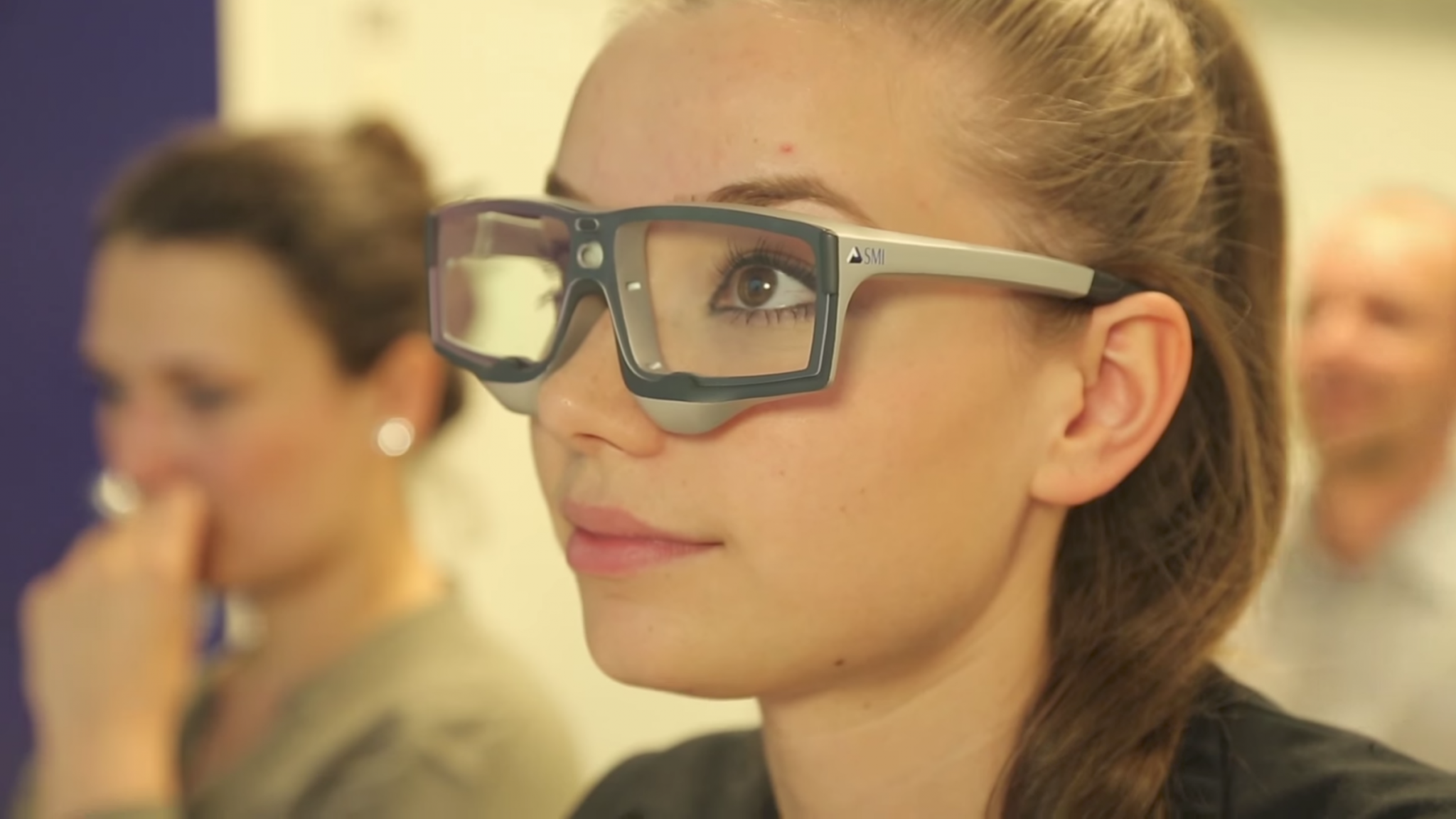 These may be Apple's AR Glasses via SensoMotoric.[/caption] With Apple's augmented reality (AR) intentions
made clear to the world at WWDC 2017,
we quickly forgot the rumor that it was working on standalone glasses to support the feature. New evidence suggests that hardware is still coming. Ahead of WWDC and the introduction of
ARKit
, the rumor mill suggested Apple was hard at work on glasses that users could wear in order to view AR environments. Currently, we use our phone screens to identify AR elements. Here's an example:
🦄 @8ninths having fun with #ARKit 📲 https://t.co/KfdwqgX3Cj #augmentedreality #mixedreality #iOS11 #iPhone8 🌞 pic.twitter.com/3ktQZ5GkMx

— Made With ARKit (@madewithARKit) June 18, 2017
With glasses, that AR scene would be much more immersive and – well, fun. But see-through glasses are a lot more complex than slapping a screen on your face, a la virtual reality headsets. With AR, you still need to see the world around you. Recently, Apple
pseudo-confirmed
it purchased a German firm,
SensoMotoric
, which has worked on eye-tracking hardware and software. Of special interest are its SMI Eye Tracking Glasses, which "record a person's natural gaze behavior in real-time and in real world situations with a sampling rate up to 120 Hz." Guess what else has a 120Hz refresh rate? The
new
iPad Pro with Apple's ProMotion technology, a feature developers can
target
for their own app-refresh rates. As we see in the video above, SensoMotoric didn't quite know what it had in 2014. Positioned as a means to help athletes train smarter, the original aim was hyper-focusing on the task at hand. Now that ARKit is here and Apple has purchased the firm, we'd expect that to be a secondary concern, at best. SensoMotoric is the latest acquisition that seems uniquely suited for AR. Apple also purchased AR software firm Metaio, facial mapping company Faceshift, technology that is able to track object motion in 3D (via FlyBy Media), and 3D sensor company PrimeSense. If you're scoring along at home, Apple's AR program now includes a platform (ARKit, likely with a bit of Metaio's work built in), hardware (iPhones, iPads and SensoMotoric's glasses, as well as PrimeSense sensors), and developer tools (ARKit and refresh rate optimization). Where this gets opaque is knowing when – or if – Apple-branded AR glasses will launch. SensoMotoric has a finished product, but it definitely doesn't fit Apple's hardware styling. We also can't say whether or not the hardware is currently wireless, a huge boundary Apple will have to overcome if it wants AR glasses to be its next must-have accessory. Its W1 chipset,
found in
the AirPods, may prove key to this end if new hardware launches. (Side note: it's very Apple-ish to sort-of beta-test products such as ProMotion and W1 in products that aren't the iPhone for inclusion in its flagship handset later. Who knows, maybe the same cylindrical battery found in AirPods will be built into the arms of its AR glasses, too!) Speculatively, I'll say it's unlikely Apple will position any headwear or glasses they produce for the purpose of augmented reality the same way they do an Apple Watch or AirPods. These won't be constant-use items, nor will a wireless set have long battery life without a monumental switch to graphene technology or the like. To that end, these may arrive alongside a broader AR initiative for Apple TV.