After six years, do you think the number of submissions to the App Store has stayed level, climbed, or fallen? As demonstrated by this chart of the App Store's metrics (hat tip to Pocket Gamer), the number of submissions per day continues to rise, likely driven by a combination of new apps and updates of existing apps. (There was also a surge over the summer as developers prepared for the launch of iOS 8, the latest version of Apple's mobile operating system.)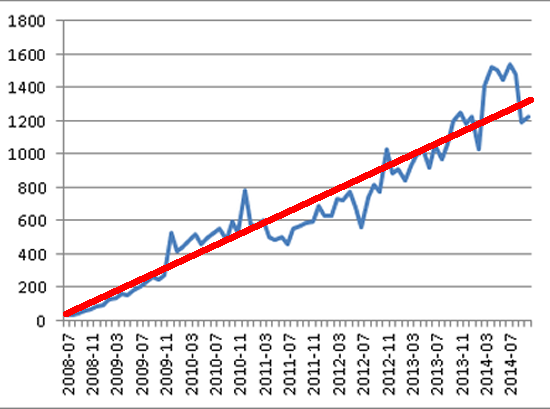 As of October 2014, developers submitted an average of 1,227 apps per day to Apple, up from a mere 32 per day in mid-2008; Apple paid out $10 billion to developers in 2013, leaps and bounds above Google, which isn't expected to surpass the $5 billion mark in developer payouts until 2017. Apple needs to approve every single app—a phenomenal workload—and its employees should be applauded for managing that tidal wave of submissions. No wonder they recently released a list of common reasons for rejecting apps; if developers avoid at least some of those mistakes, it could reduce at least some of the daily burden on those employees. Common reasons for rejection include crashes and bugs, broken links, and other usual suspects. (For several years, Apple has published highly detailed App Store Review Guidelines. At several thousand words in length, these combined documents represent a "formidable list of what not to do," in Apple's words, but it's questionable how many developers actually get through the whole thing. So launching a pithy list of mistakes makes a lot of sense for Apple—developers are more likely to spend a few minutes reading the chart.) To find iOS developer jobs, click here. While developers have complained about what they perceive as arbitrariness behind many app rejections, Apple does have a system in place, a few mistakes over the years notwithstanding. Reasons for having your app rejected can belong to one (or more) of 29 separate categories.
Obvious Reasons for Rejection
If the app crashes, features pornography, lets you gamble money (except lotteries, which are allowed subject to stringent requirements), promotes illegal substances, shows someone's personal details, or installs types of executable code, Apple will shut you down. Apple takes things one step further by mandating a decent experience for users, centered on good UX design; your app must also store data in the correct place in the filesystem. Although Apple may seem a little nannyish at moments, rejecting content it feels could upset or disgust some users, it still lets dozens of juvenile apps into the Store—if your software that makes farting noises is quality, it'll probably get through Apple's censors.
Upload Your ResumeEmployers want candidates like you. Upload your resume. Show them you're awesome.
According to Apple, top reasons for recent rejections included bugs (9 percent), privacy-policy issues (7 percent), refusal to comply with terms in the Developer Program License Agreement (5 percent), design of insufficient quality (5 percent), crashes (4 percent), and "apps with names, descriptions, screenshots, or previews not relevant to the content and functionality of the app" (4 percent). Apps that contain false or misleading representations of names or icons similar to other apps are also rejected—so the next time the guy who built Flappy Bird decides to come out with a new game, don't even think of copying it.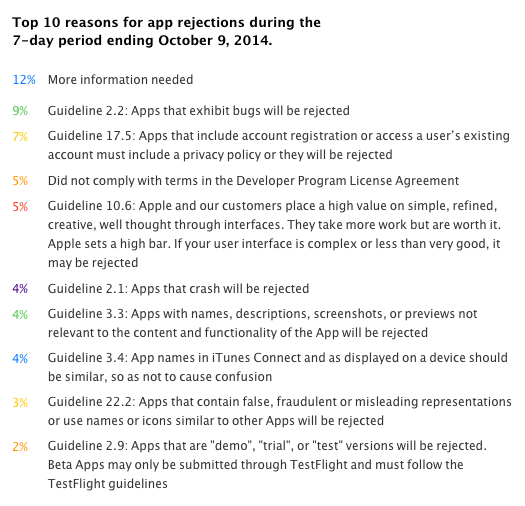 Not-So-Obvious Reasons
Apple also denies apps for more esoteric reasons. Want to have an App that uses GPS to automatically control a real-world aircraft or automobile? Sorry, that's not allowed, presumably because Apple doesn't want iOS to serve as a drone controller. (Imagine the liability issues.) Also, apps that report your location to emergency services are forbidden, as well as any that misspell Apple product names ("iTunz" will never make it through, no matter how much you beg). In order to sidestep those issues related to quality, developers could do well to take another look (or a first) at the Apple iOS Human Interface Guidelines. (Did you know, for instance, that the minimum size for a clickable button is 44 x 44 pixels?)
Conclusion
Apple's rejection reasons are sensible, and they do feature a Review Board to whom you can appeal in the event of a rejected app. Just don't run to social media or the press if your work doesn't make it into the App Store; Apple, like the Incredible Hulk, isn't very nice when it's angry.
Related Articles
Images: Pocket Gamer, Apple