[caption id="attachment_14998" align="aligncenter" width="483"]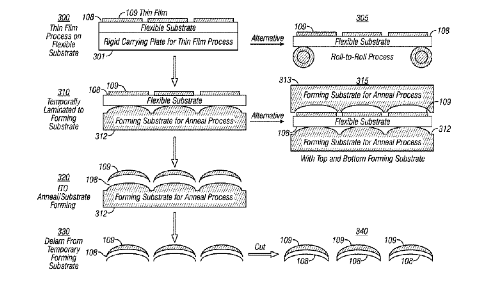 Apple's patent details the manufacturing technique behind a curved touch sensor.[/caption] Apple has filed a U.S. patent for a "curved touch sensor,"
according to AppleInsider
. The patent (No.
8,603,574
) describes a manufacturing technique capable of producing gently curved surfaces capable of responding to touch in a variety of ways; in theory, Apple (or a licensed manufacturer) could even use the technique to create devices with more than one curve. The patent covers "touch sensor panels" for displays, touch sensors, computing systems (i.e., laptop touch-pads), and mice. Apple archrival Samsung already released a smartphone with a curved display, the
5.7-inch Galaxy Round
(internal specs include a 2.3GHz quad-core processor and Android 4.3, along with a 13-MP rear camera), and LG Electronics has its
own curved device
on the market. But the patent doesn't necessarily mean Apple's next iPhone will feature a curved shape,
despite some recent scuttlebutt to that effect
. Indeed, it's just as likely that Apple will feature some variant of a gently curved, interactive surface in its much-rumored wearable electronics—including the "iWatch" that will supposedly make its debut in 2014. Earlier this year, Citigroup analyst
Oliver Chen told Bloomberg
that an Apple timepiece could earn as much as $6 billion a year, a sizable fraction of the $60 billion global timepiece market. Even if that's an overestimation, it's highly likely that the Apple Faithful will turn out to buy an "iWatch" in large numbers. A moderately successful iWatch, in turn, could guarantee the development of other wearable electronics—many of which may require some variant on a touch-sensitive curved screen. In other words, this patent could be a glimpse of Apple's future.
Image: Apple/U.S. Patent Office